Bowen shoes are not so well known outside of France while it offers great shoes as they are made by Alfred Sargent. I think this is very strange that French brand is actually made in England. Yes I know most French brands are not made in France as only the top level ones do, such as Corthay or J.M.Weston, but choosing England is not as popular as utilizing the supply chain in Spain.
There is clearly historical reason that Bowen was found in late 60s and English shoes were value choice everywhere. Sadly Alfred Sargent went bankrupt in 2021 and who will make Bowen shoes is a question, but we still can find a lot of inventory of made by Alfred Sargent.
Bowen shoes are more English than French and conservative to tasteful men.
Just check my Alfred Sargent, oh sorry, Bowen shoes.
Pattern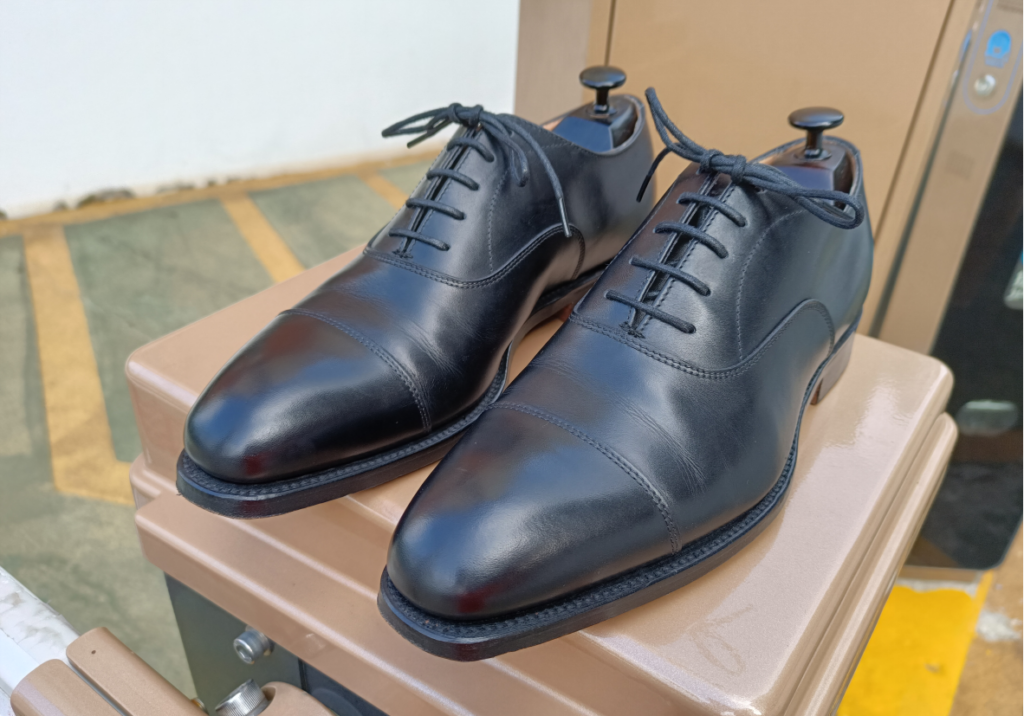 Black Cap Toe Oxford. How boring! Could you just have some interesting shoes? Sorry, Black Cap Toe Oxford is just my thing and I never want to deviate from them.
Nothing really stands out, the curved decorative line at the lacing area is close to the design of New & Lingwood or Poulsen Skone.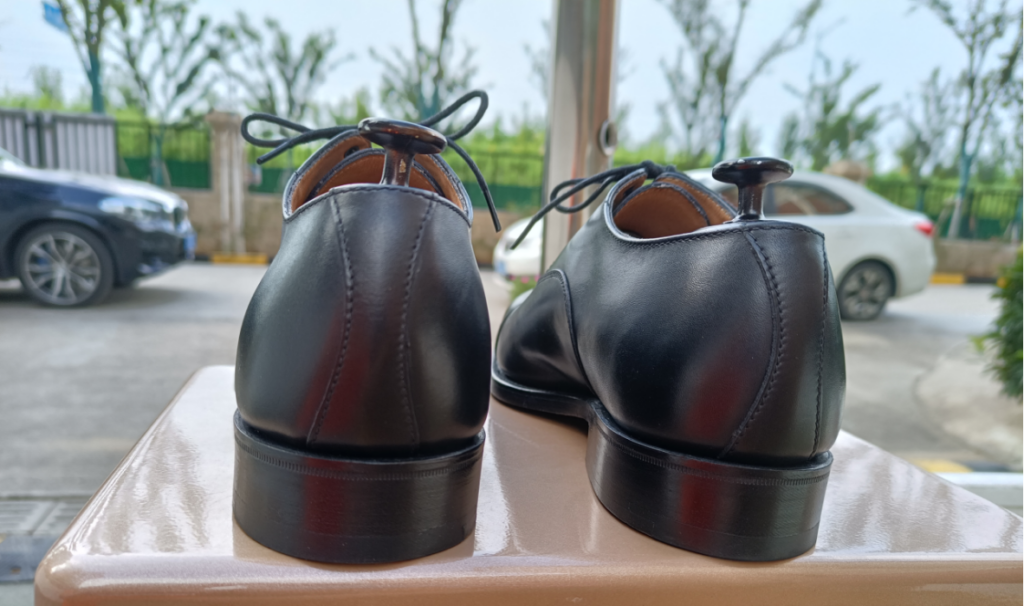 I very dislike the patchy heel, I know functionally, it may serve the best, but it says nothing about exquisite. I found Italian shoe brands really like this.
Last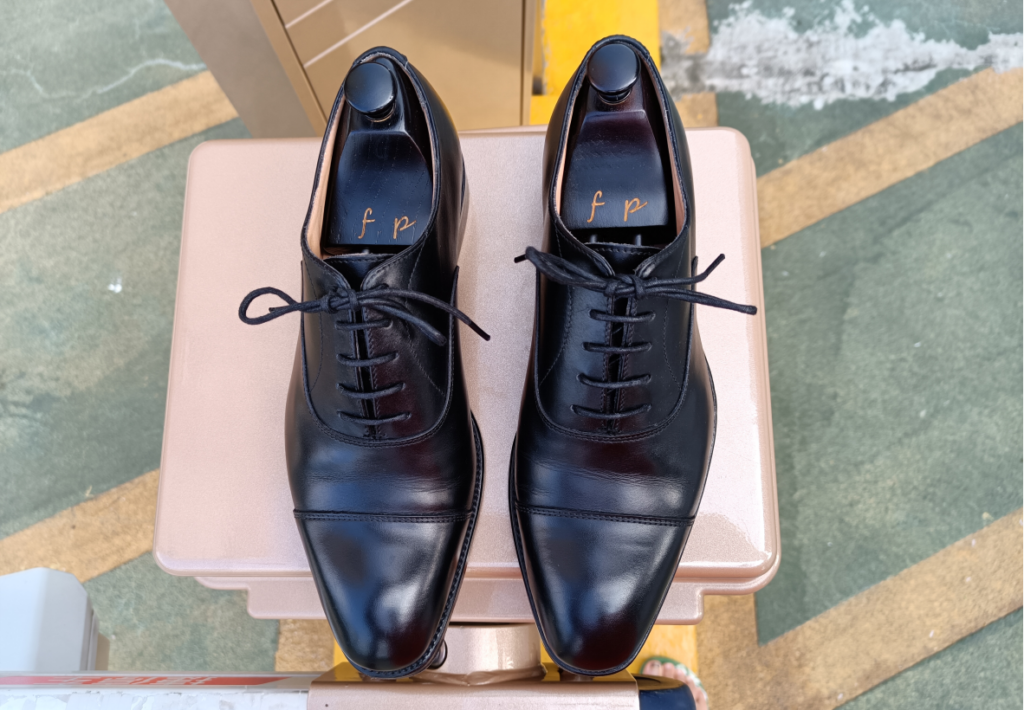 I don't know if I am biased, but this last gives me strong feeling of Gaziano & Girling as the toe shape is so elongated. In the meantime it speaks of French a lot as the narrow width.
I have a tip of checking out French shoes, but it confines to only oxford shoes. Check the widest area of the shoes, to see it locates in front of or behind the closing end of eyelets. French shoes all have the widest area before and this means the shoes are narrow, at least too narrow for Asians. I just wonder whether they have different feet to ours.
Leather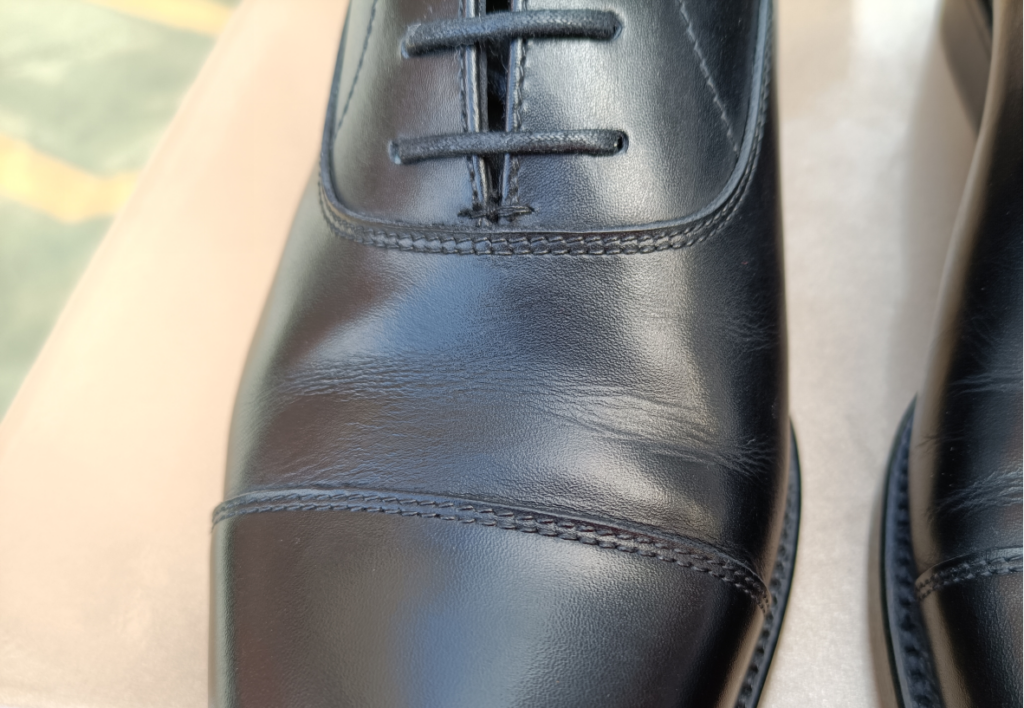 Crease on the right foot is superb, even by the standard of a John Lobb.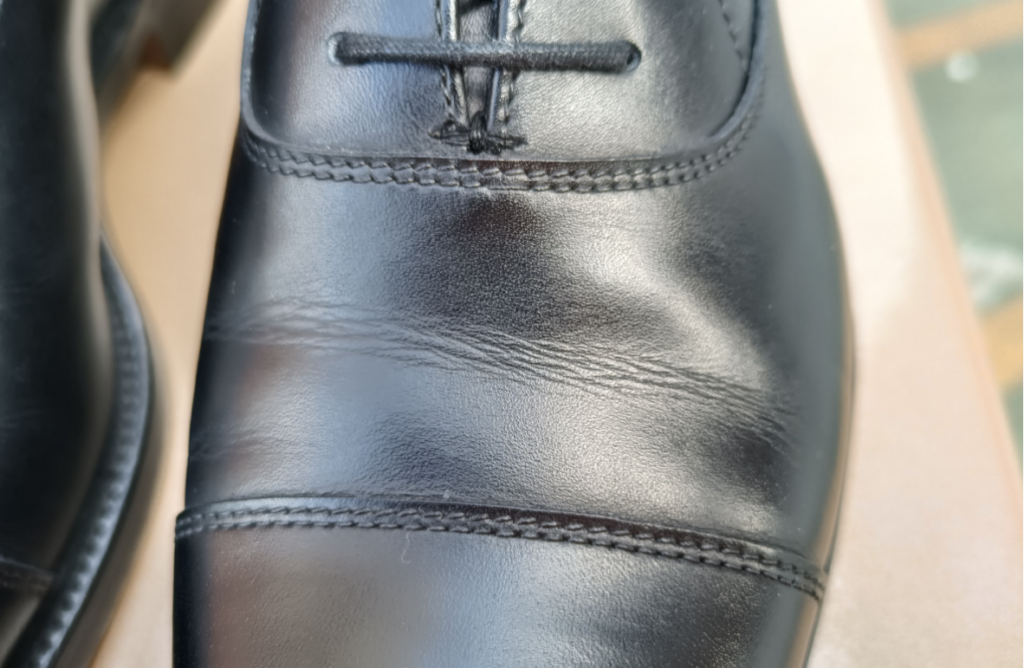 Left foot is not as good as the right one, and this phenomenon is quite common on factory made shoes. Because the leather is not cut from the symmetrical locations of a same leather.
Overall, the leather is great.
Welt
Welt is the focal point telling how well the shoes are made, what quality level of this pair is. Good welt shows luxury feeling and tells this shoes can wear for a long time.
Stitch density is the same as Gaziano & Girling because they used to share same production line and machines and it is better than Crockett & Jones mainline.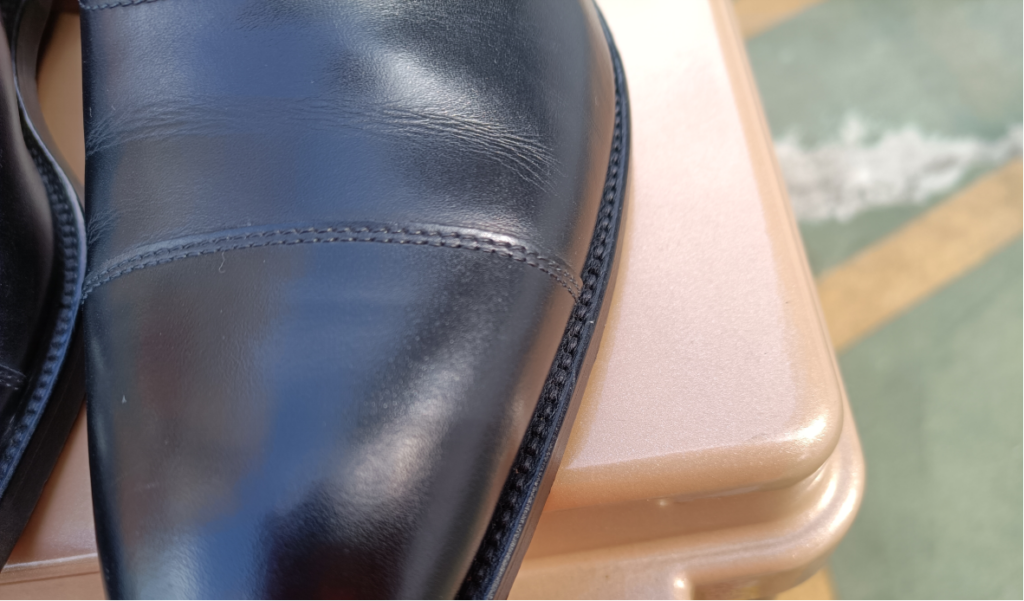 welt corner is edged slightly, as the welt is already narrow comparing to others, Bowen/Alfred Sargent is very good at its price point.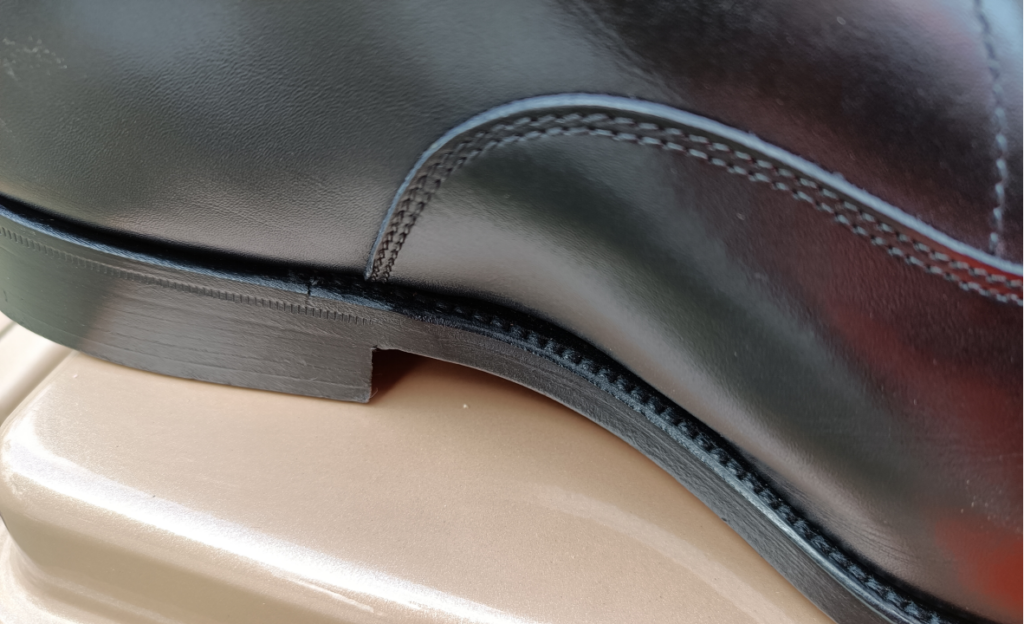 There is a very trivial detail on this pair as the welt side has a small bump from the waist to heel. This has no real meaning for its quality or aesthetics, only serves to guess which brand the shoes are.
Out Sole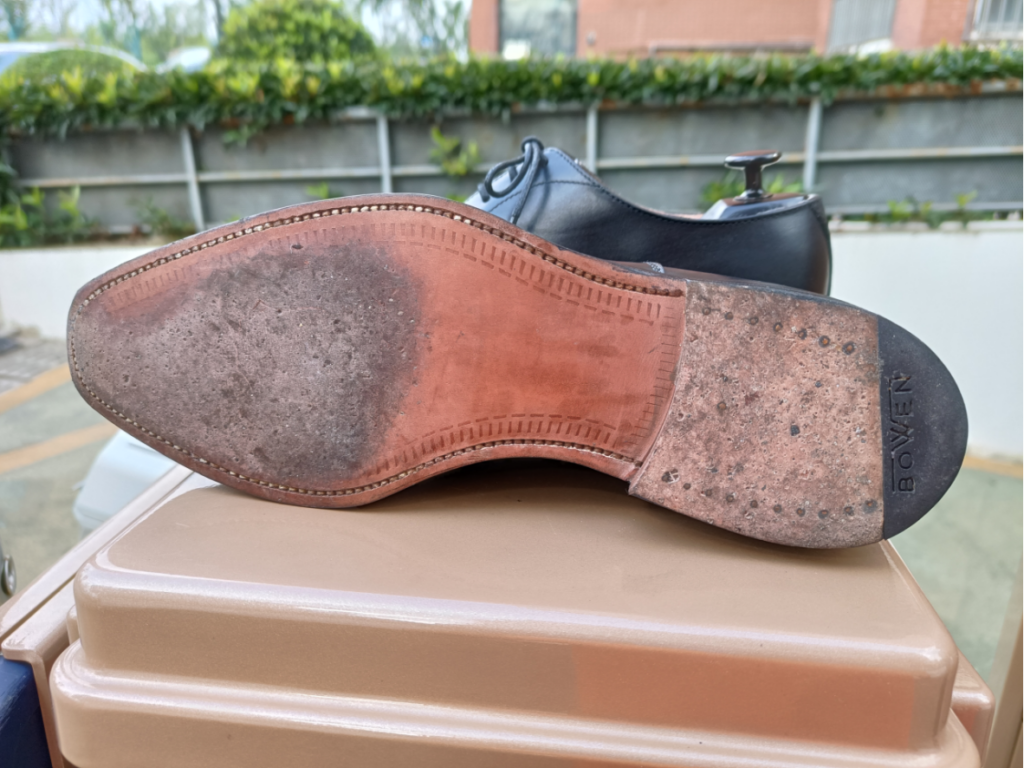 English shoes are so stubborn on open channel sole. But for some brands such as Tricker's who just entered dress shoe field, closed channel sole is deployed.
Details
The half sock lining speaks very clear.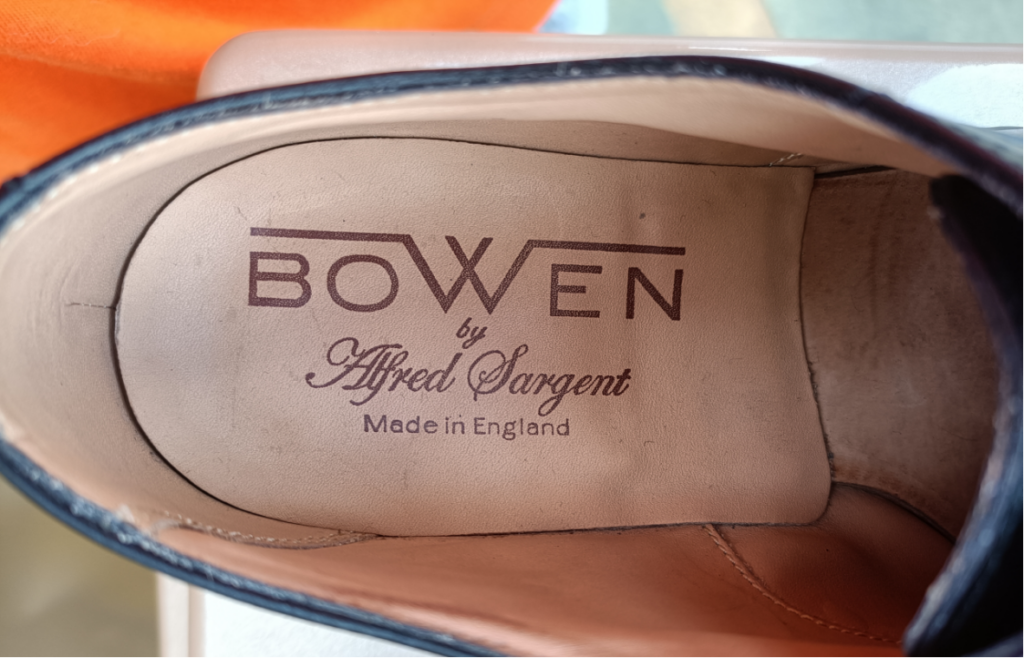 Bowen may not be famous even in shoe enthusiast community, however it has many physical stores all over France, so it is an important player. Even the bankruptcy of Alfred Sargent was related to its dominance. Before the fall, Bowen occupied 90% of volume capability of Alfred Sargent and demanded strong cost savings and pushed down the quality of the shoes. Thinner profit came along and finally crushed Alfred Sargent.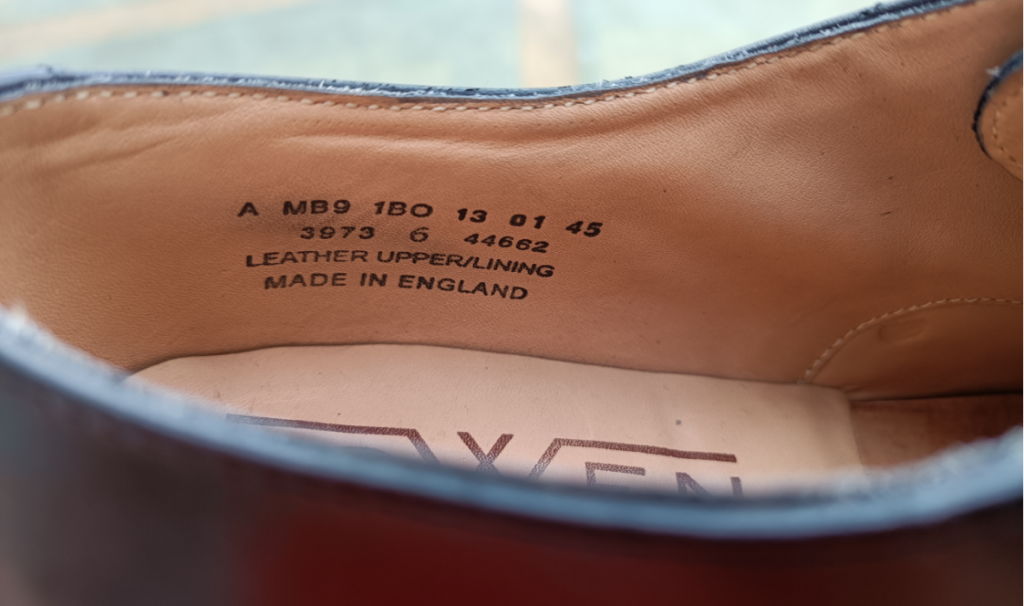 The information on the lining is different from Alfred Sargent own.
Alfred Sargent writes the model name on the first line. and this one does not tell about the last as well.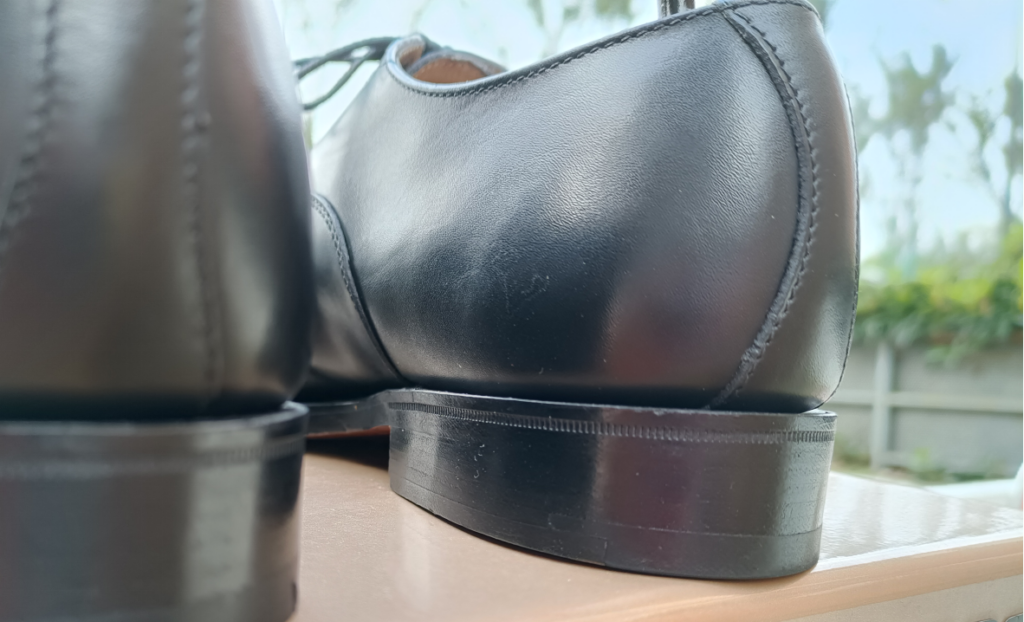 The fudge on the heel is very fine and well aligned.
Fit
The size is 6 which should be one size bigger than my take, however it fit pretty good, why?
Tow things, firstly, the size of Alfred Sargent is close to Gaziano & Girling, which is half size down than others, another thing is this French last is quite narrow so a further half size is needed.
Conclusion
This pair is a great workhorse if you want to dress quite formally. The leather and construction will give you everything you want. The other thing to me is they are too sharp and elongated, I am hesitant to wear.