I think J.M.Weston is a hidden treasure. Why is that? Speaking about fame, it is only recognized in France and Japan, but in this two countries, it is maybe more sought after than John Lobb or any other English brands.
There is a funny fact about J.M.Weston that its most loved and iconic models are all blunt round toe, it is sarcastic for a French brand where sharp and long toe is the normal.
I can draw a conclusion from this fact that understatement is the king, high profile could be a trend, but never a constant.
My pair is one of its iconic, model number 598, name Demi Chasse, Half Hunting in English.
Pattern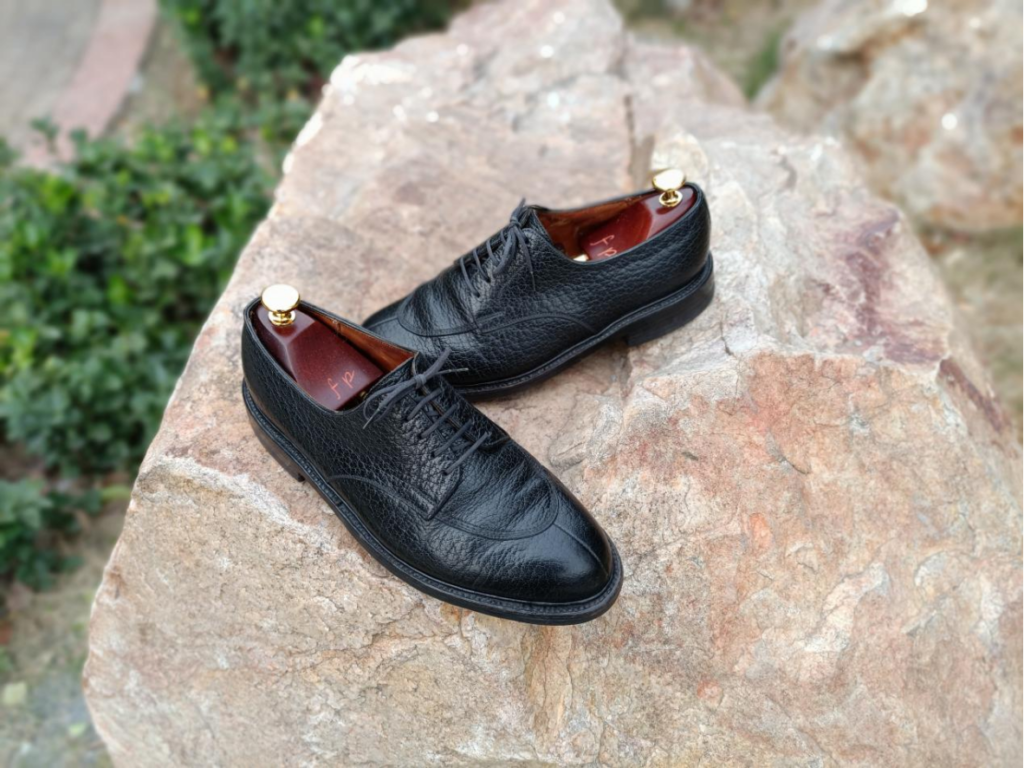 This super iconic has been copied by many and for long, needless to describe the fantastic and almost best split toe derby in the world.
What makes it so good-looking?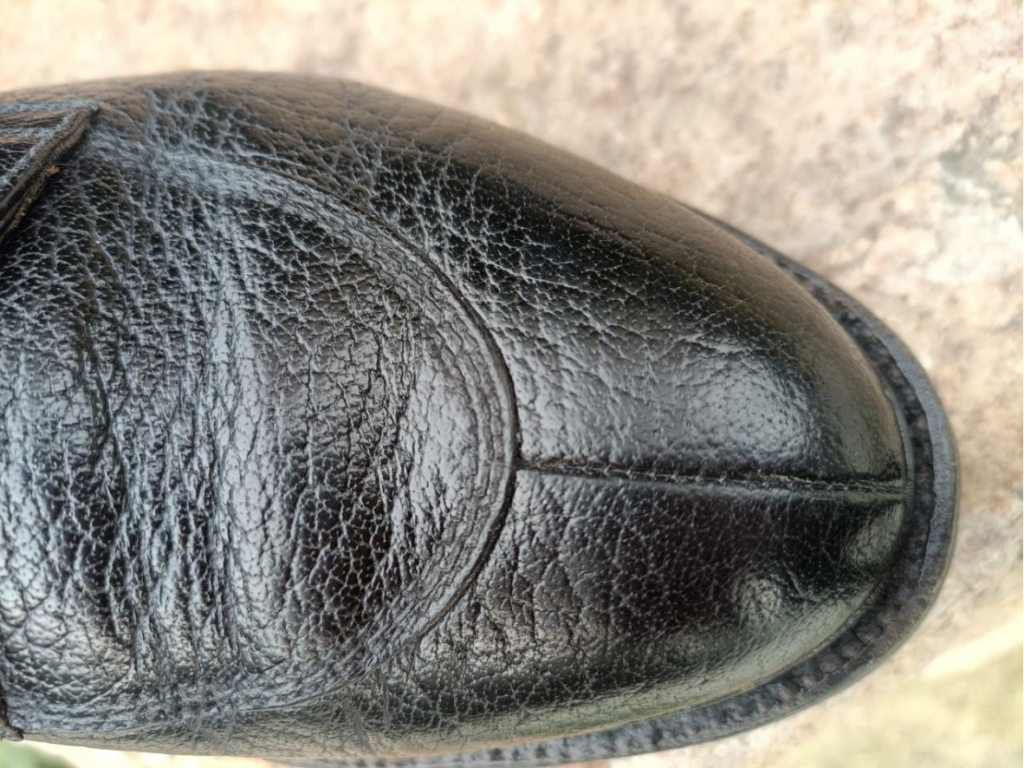 Although the split toe stitches are not reverse like Dover from Edward Green, the craftsmanship is undeniable. The three stitches forming the apron are quite dense and present sturdy and elegant in the meantime, additionally the contrast with the split is strong.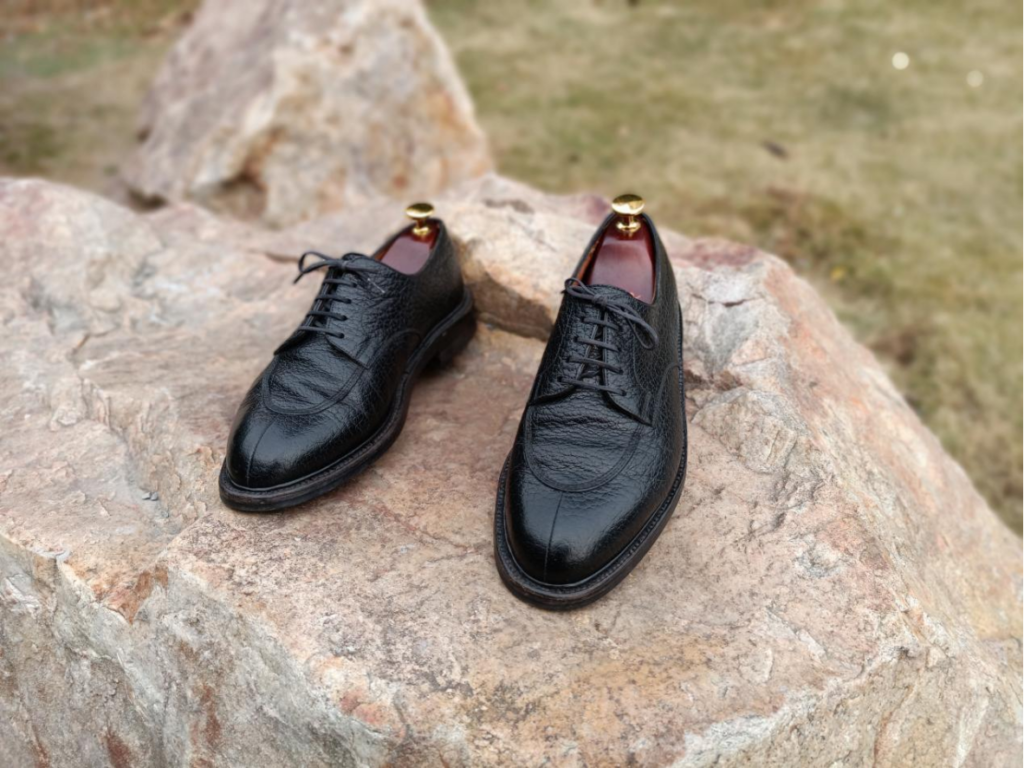 Storm welt is kind of construction thing, but also contributes a lot for the aesthetics of the shoes.
Demi Chasse is an outdoor shoes by all means.
Last
Take from distance, the shoes are very blunt, but are they really? The answer is no. The wide welt and long split give you the impression, but when you cut these off, something unexpected comes out.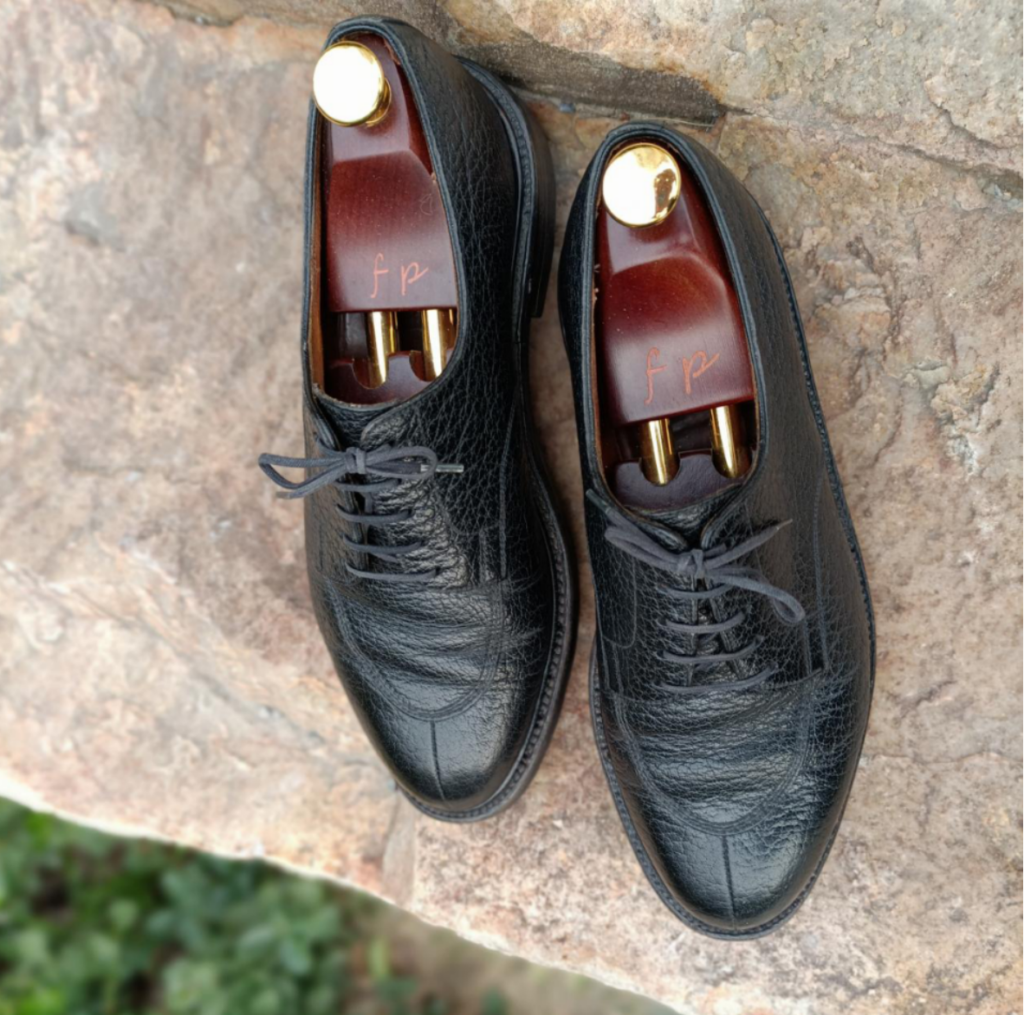 The toe isn't blunt at all, and is significantly narrower than Last 202 of Edward Green, may be very similiar to the small round last 7000 of John Lobb.
I already have a plan that when it is resoled, I will replace the sole and welt into a Westend single, thin leather sole.
Another thought, this toe may suit a cap toe oxford perfectly!
Leather
The leather is super beautiful, interesting and not quite familiar to me.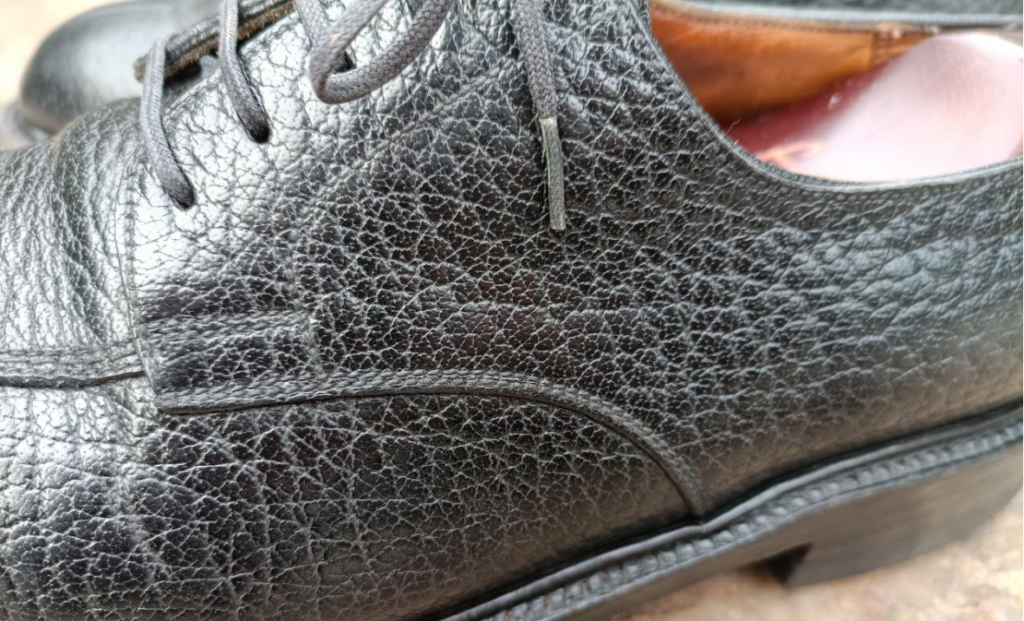 The grain looks very prominent, and the pores are also very obvious, the latter means the leather is of the highest quality.
I thought it was Buffalo leather as I have seen on Maftei, but I also read that J.M.Weston loves to use a leather called shrunken leather which the grain is formed in the drum by rotating.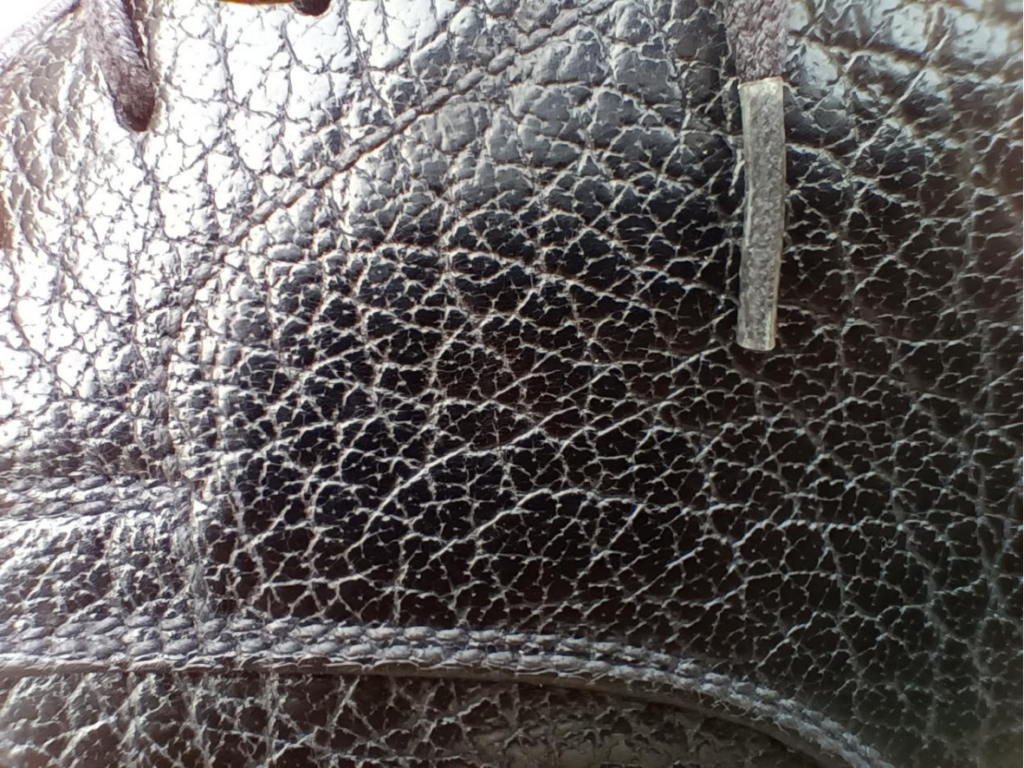 Generally speaking, grain leathers improve luxury feeling of shoes while more casual. You definitely saw grain leather capt toe oxford, and it looks gorgeous by itself, however when put into an outfit, it is not so good.
Craftsmanship
Craftsmanship of J.M.Weston is highly praised by insiders, and regarded the best example of quality shoes.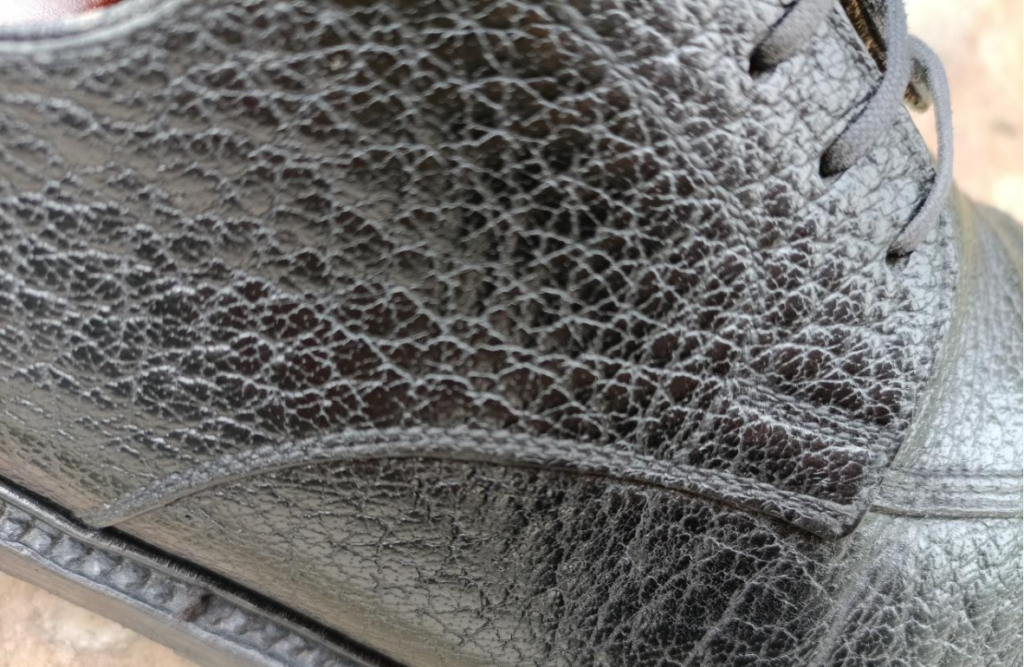 Upper stitches are very dense and very subtle especially with grain leather.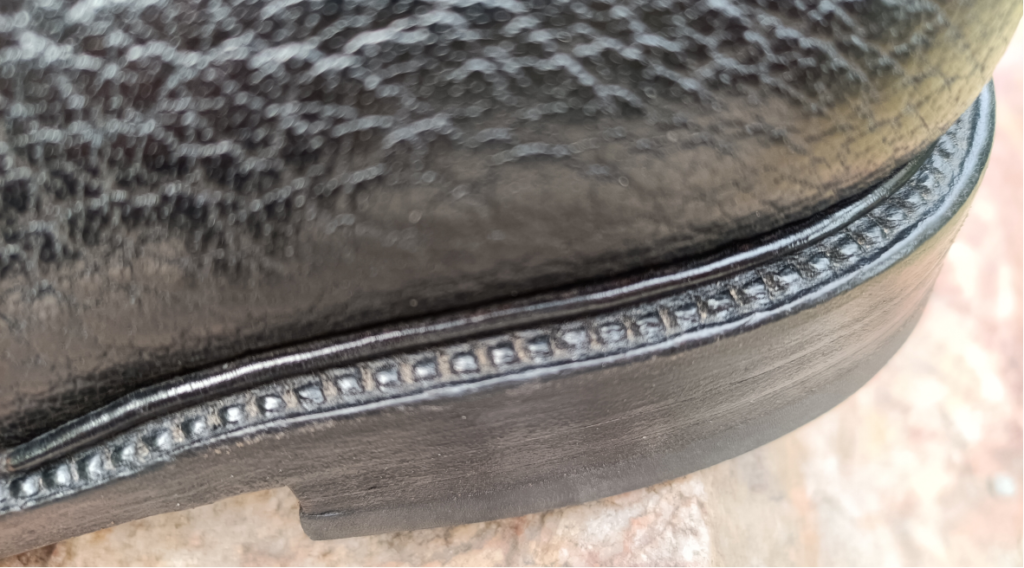 360 degree storm welt, and the stitch bump is very typical and easy to recognize. Although the stitches are not very fine, each presents like a pearl or cube, telling it is very sturdy and firm.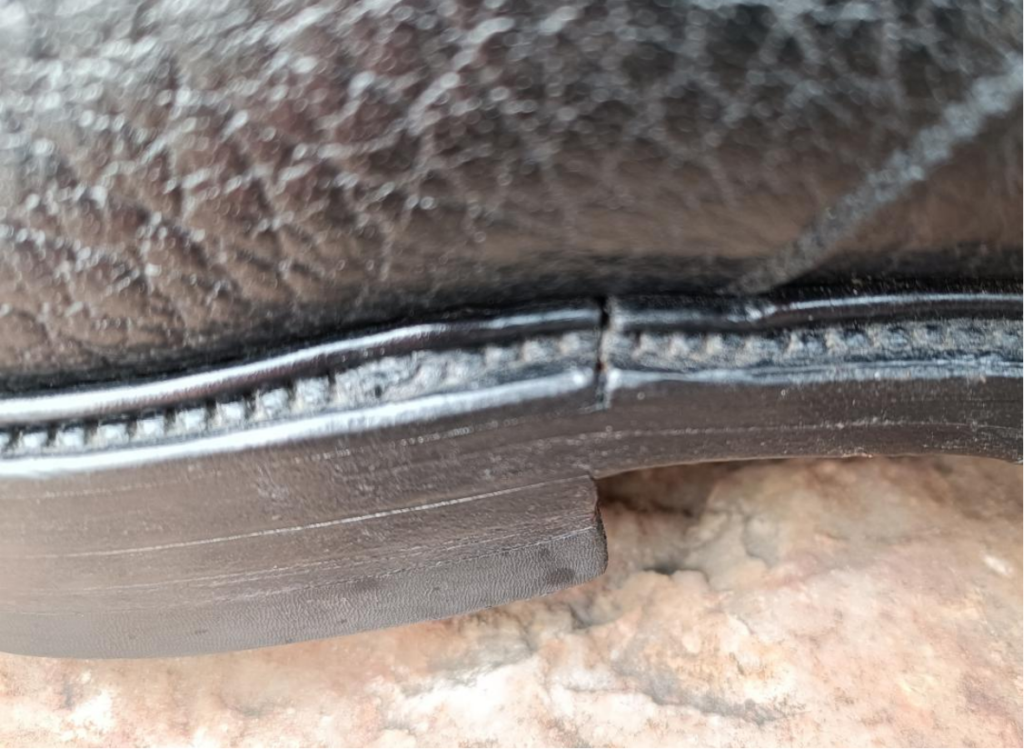 The connection of circle welt is not exquisite.
Double leather sole is also an iconic feature of Demi Chasse which is by default when rubber sole was not invented or popularized.
Outfit
This pair is not easy to put into an outfit, maybe because my wardrobe is not casual enough. But itself only has a week point.
It is casual shoes, storm welt, double leather sole, derby, shrunken leather, all say the same thing. So maybe tweed may be a solution.
But it is black, the most formal colour which tweed is not suitable.
When you choose a city costume, these black shoes don't have a matching pattern.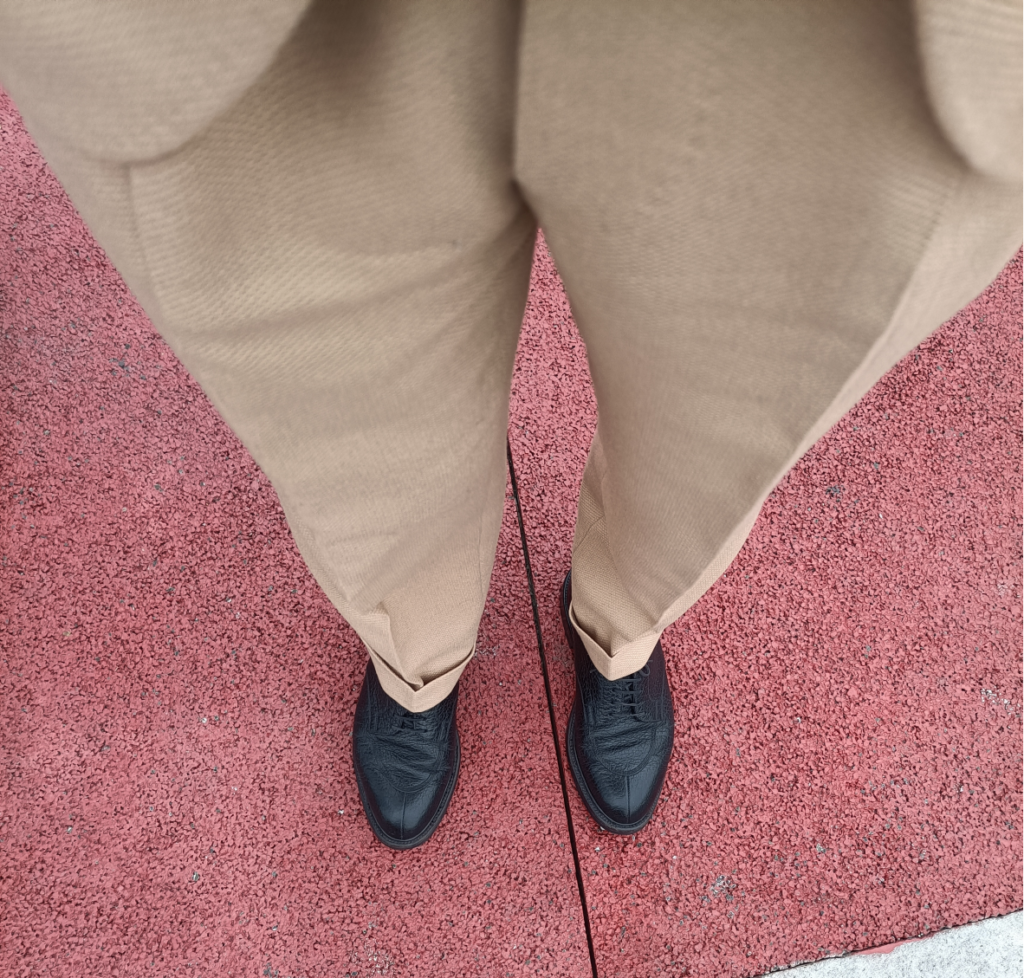 Yellowish cream is between city and country, but this pair is still standing out as an outsider.
The only clothes I feel good are jeans.
Conclusion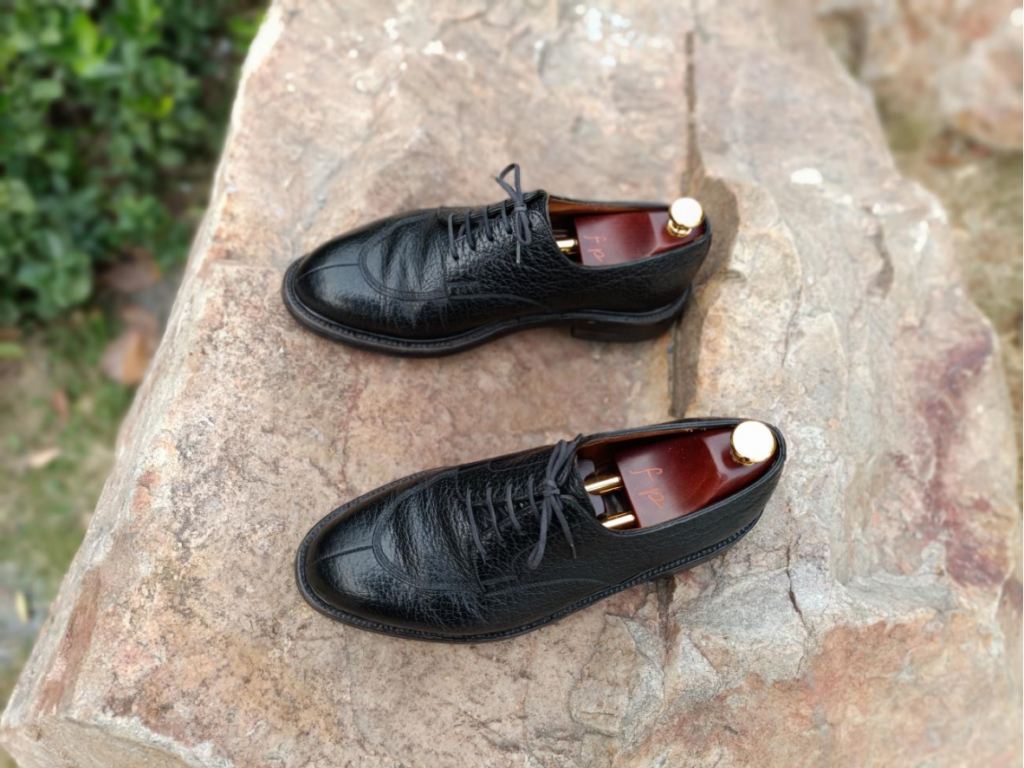 I am not a fan of Derby, but the iconic ones, I have to own.