Alfio Bruschi is an Italian bespoke shoemaker based in Montegranaro, Marche region where is the shoemaking capital in Italy. His works are quite experimental and characteristic. I am curious about his journey and why he receives worldly fame after several years set up of his own brand.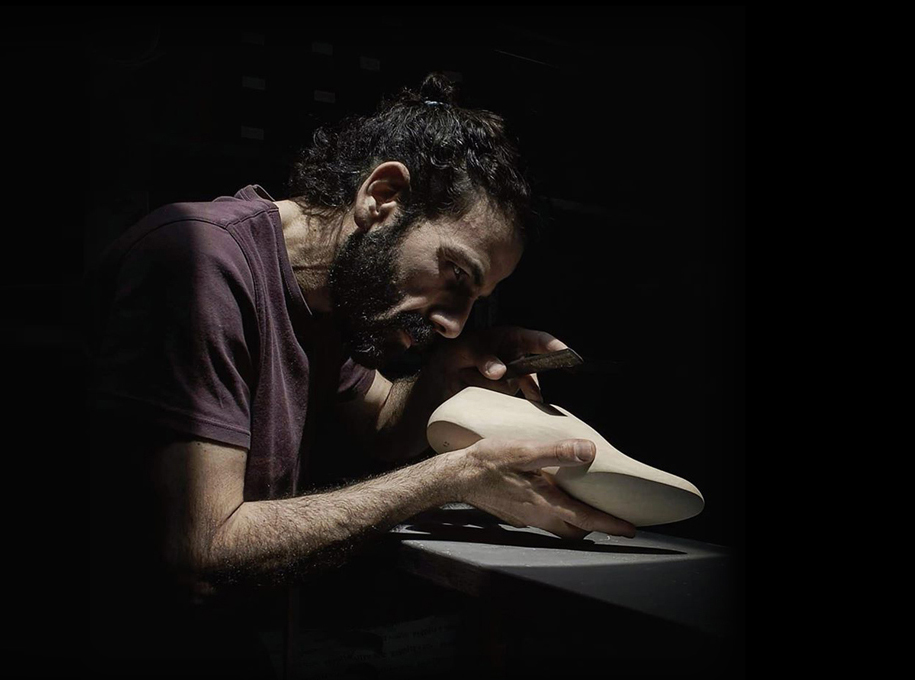 It is a pleasure discussion with Alfio Bruschi.
What are your working experience in fashion industry before went back to your father's workshop?
I started very young immediately after my studies, I worked in the shoe fashion sector in my village Montegranaro for about 5 years I worked as leather hand cutter, and following the masters of the sector, I learned to recognize quality leathers and understand how and where to cut patterns on calf leather and other animals.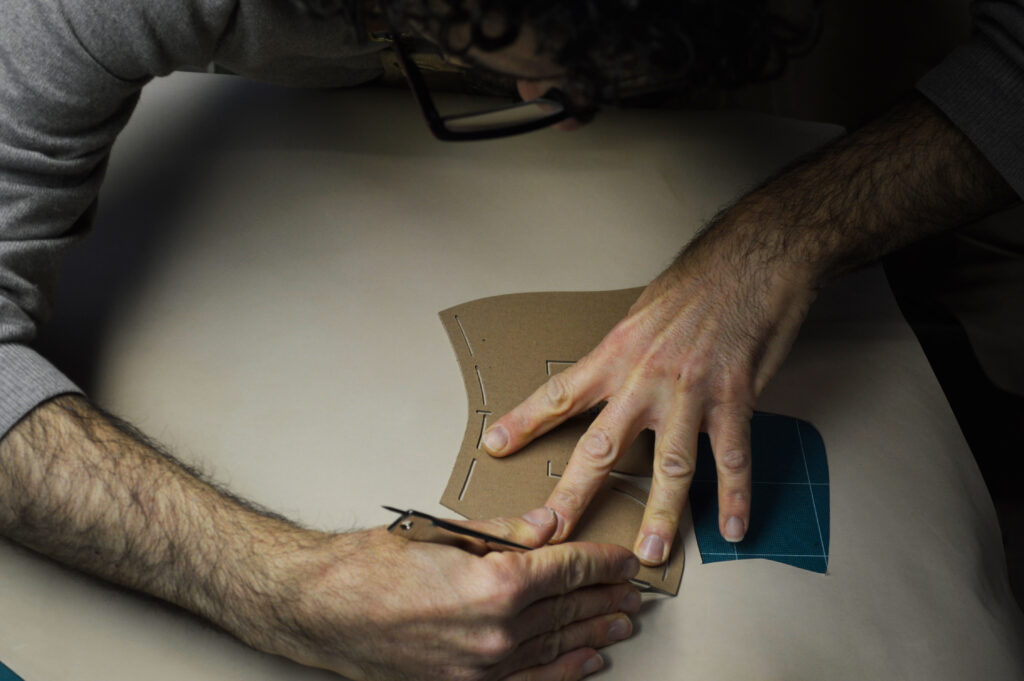 After this first experience, still very young, just over twenty, I started in the workshop of my father Sandro who together with his brother had created a small company on their own to build quality shoes since 1975. With great humility and many sacrifices I followed my father's advice trying to learn the craft of a shoemaker at every stage of construction.
You learned shoemaking skills from your father, but how did he learn these skills?
I learned some hand stitching processes from a master craftsman in the my town, but almost all the stages was taught by my father.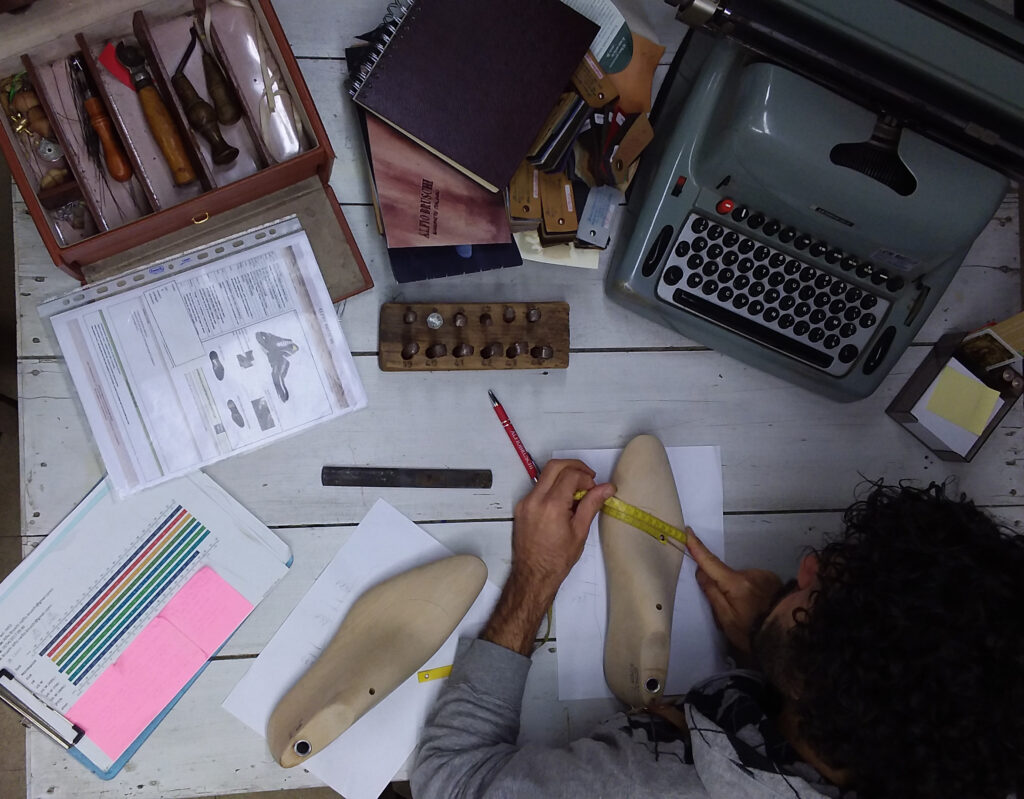 He had his own brand Brumas & Co. that they managed with my uncle for about 20 years.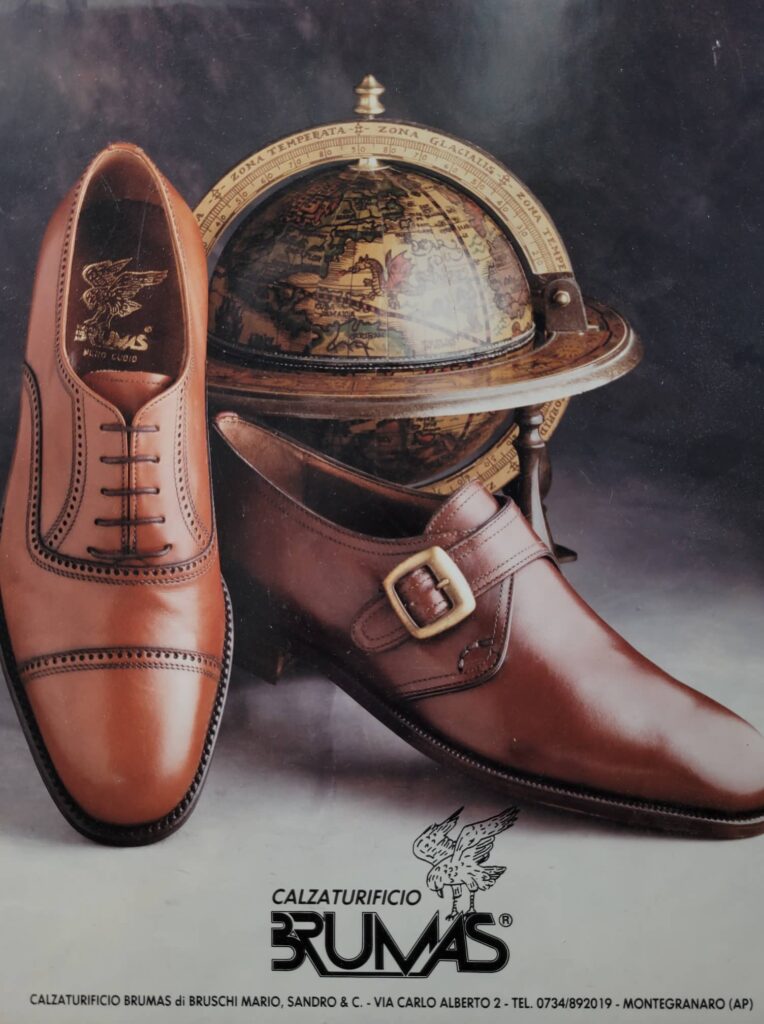 When I joined the business, in the laboratory they had started working as "subcontractors" for big Brands, Montegranaro was by then the footwear capital in Italy in the 90s.
In those years my father's shoe factory, it was recognized as one of the best in the area for the production of medium-fine quality footwear.
I have followed my father in the steps of making shoes, and later I was able to learn how to manage a business in all its aspects, fortunately for me in a completely familiar environment.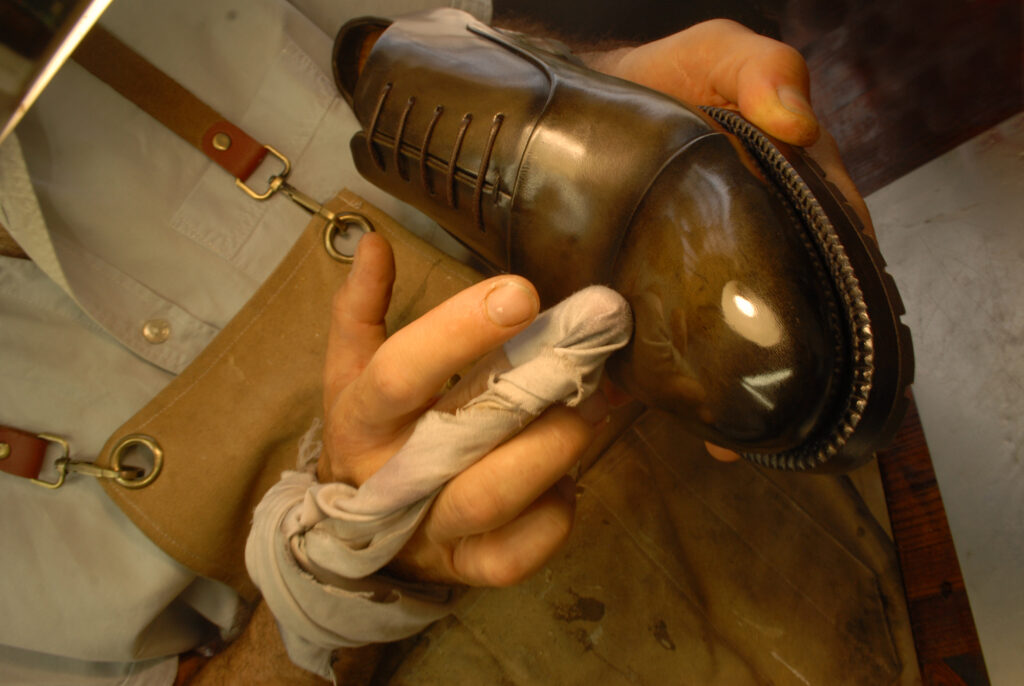 My father with great patience handed down his knowledge and character to me, and for my part the passion has always been growth, even today.
My dad maybe give the first impression of an attentive and severe look, and our relationship had some bump, however the infinite love and open heart of a father towards his son always win.
Marche is the capital of Italian shoemaking, however we seldom hear bespoke shoemakers from this region, why?
This is true, because Montegranaro is worldly famous for production of medium/fine quality shoes. But there are some masters of handmade footwear who have national fame or work for big brands.
In Tuscany the shoemakers have managed to become important names in the world, while in Montegranaro is an industrial center. I think the reason why this happened was the region choose to not cultivate real craftsmanship that started in the years immediately after the world wars of the early 1900s.
When I was a child, there are numerous small workshops in the village, all under their own houses and each specializing in one of the hundreds stages of making shoes. The streets were a succession of voices and "noises" of work like that of the hammer…
I am still in the place, where for my father it all began under their home, and this is a great pride for me.
Industrialization has improved many aspects, but also shifted attention to luxury products and different target groups, such as the big brands who came to Montegranaro for their productions, it was just only business.
Could you tell some customers of your father, how did they know your father and how long have they been the customers?
My father succeeded with his brand to make itself known in the sector as a high quality manufacturer. So later when the designer brands wanted to produce good products they contacted him to make part of their production.
I remember names I also worked with as a young man are Hugo Boss, Dolce & Gabbana, Tod's, Pollini, Prada, Valentino, Armani….and some minor brands in the area. At that time we were able to produce around 2000 pairs per season.
How long has Alfio Bruschi been up running?
I have taken over my father's business as owner since 2000, for some years my father and my mother supported me with great support to complete the role transition.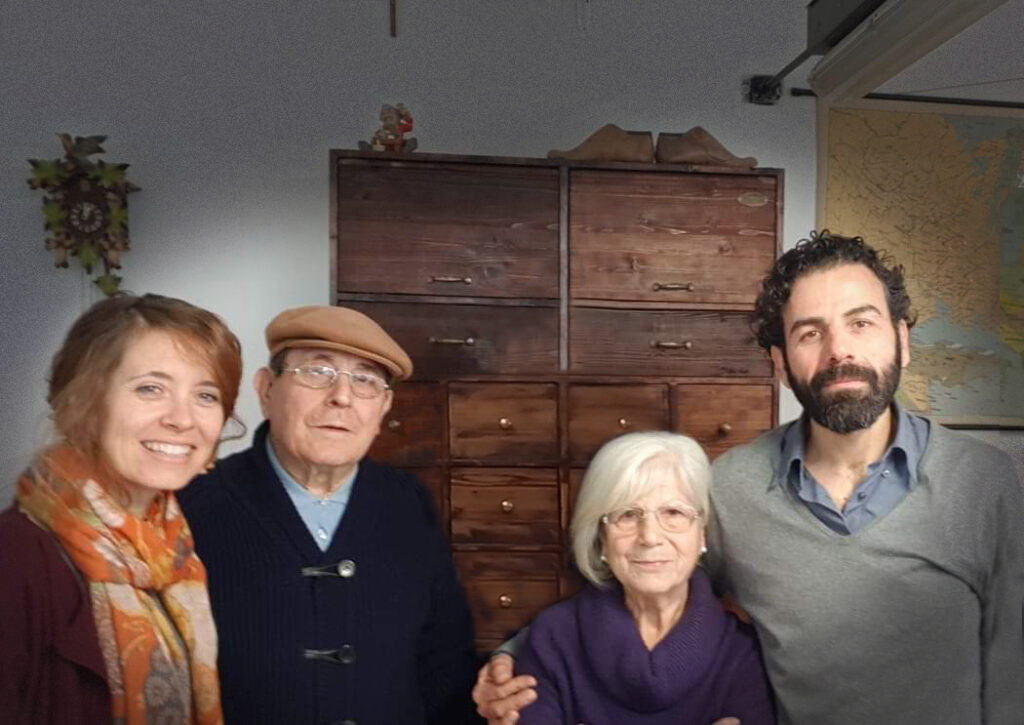 After a few years I started making my first products and I signed them from the beginning with my name Alfio Bruschi. I don't like branded products neither Logos, I initially wanted to present my unnamed articles, but commercially they advised me to be recognizable, so I use my name and manually sign my shoes.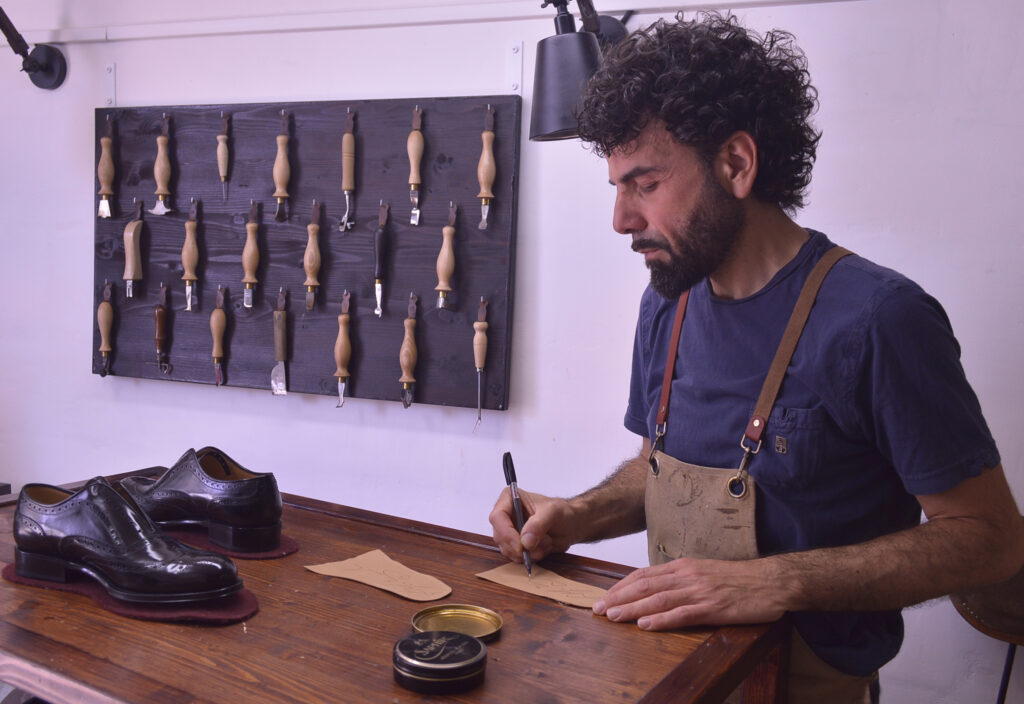 Because what I was in 2000 is not what I am today, just as my signature changes with me. My style based on my experience and my learning changes and evolves over time.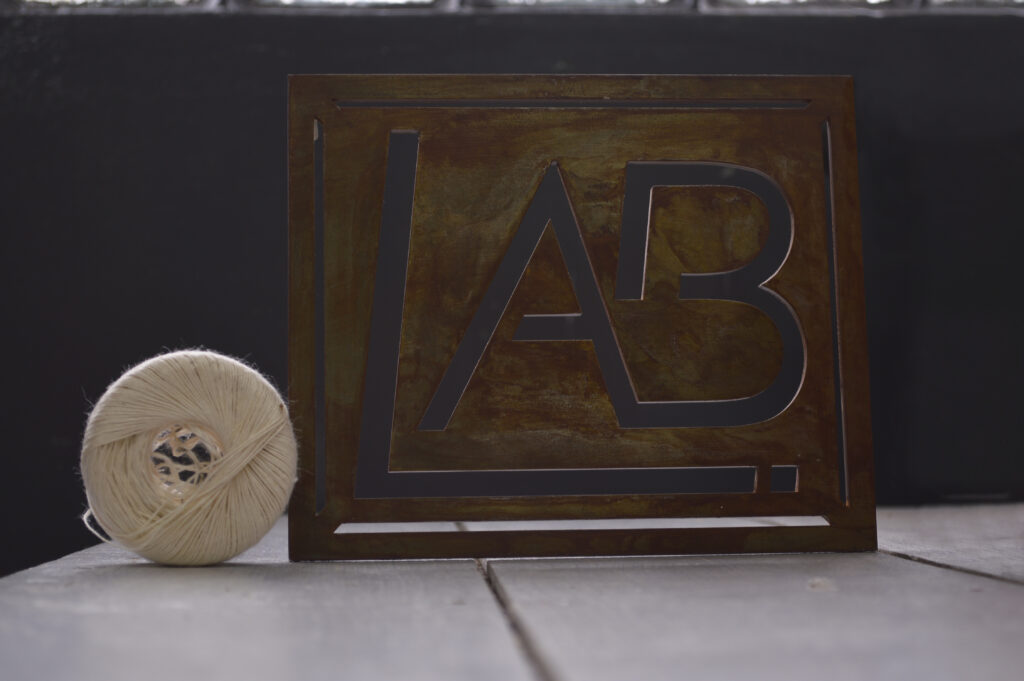 In 2017, the decisive stage in my story was to transform the laboratory into a workshop and I founded L.AB di Alfio Bruschi.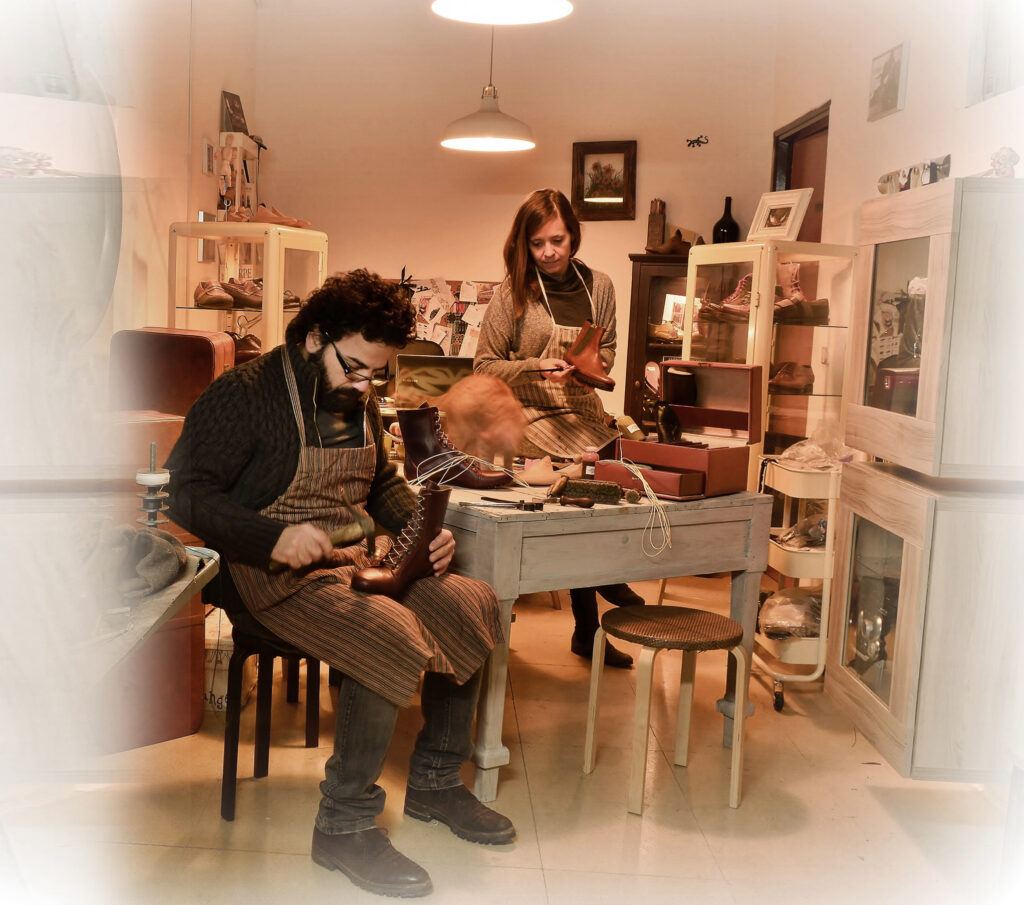 My workshop, indeed our workshop with Silvia, my life partner and all my passions, we have created and transformed our knowledge and our professional experiences and we have merged them into a small reality that represents us in every aspect.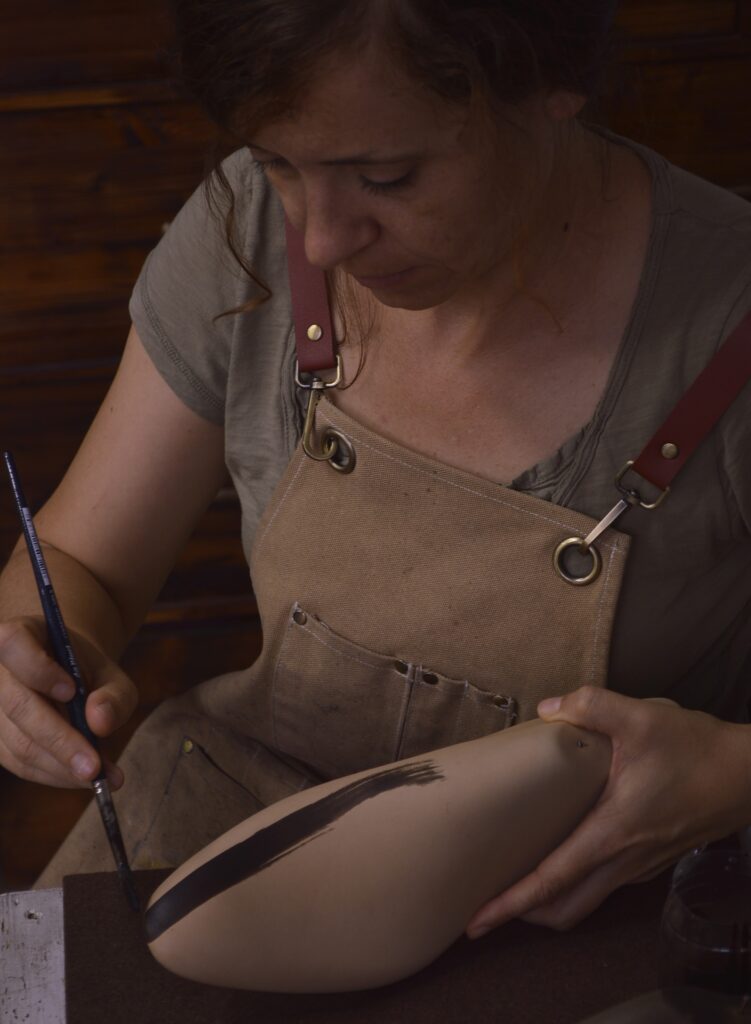 Even my father retired, every now and then he still gives me some advice on the latest samples. He goes down to the workshop and is curious to know where our shoes are headed: a pairs to America, the other goes to Sweden, this one to Germany and those 3 pairs are for Japan…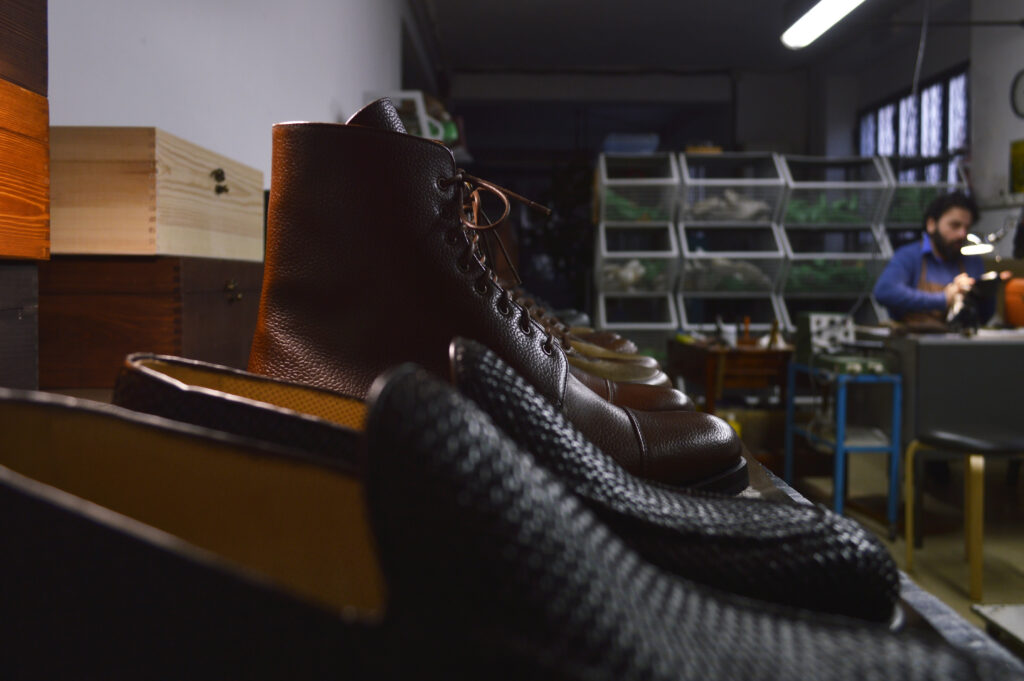 Here I like to imagine that he continues to travel through my story.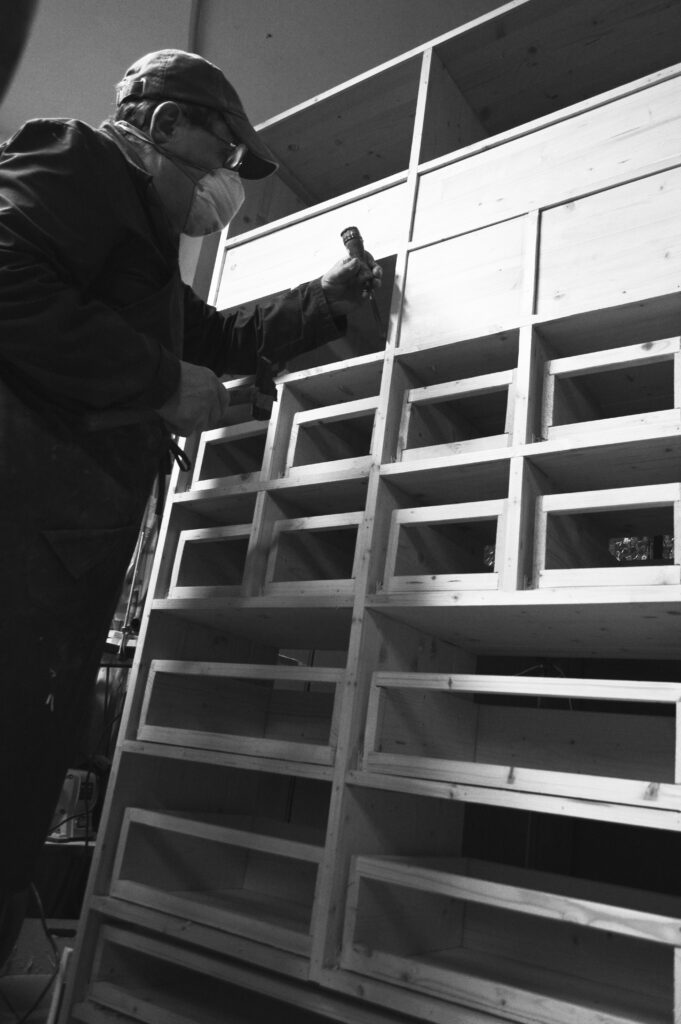 We are constantly evolving and so we need new furnitures such a table, a trolley, a stool for our shop and my father Sandro is happily working with wood and I can proudly say that all the pieces of furniture in my workshop were made by him and so even today we are continuously together even at work.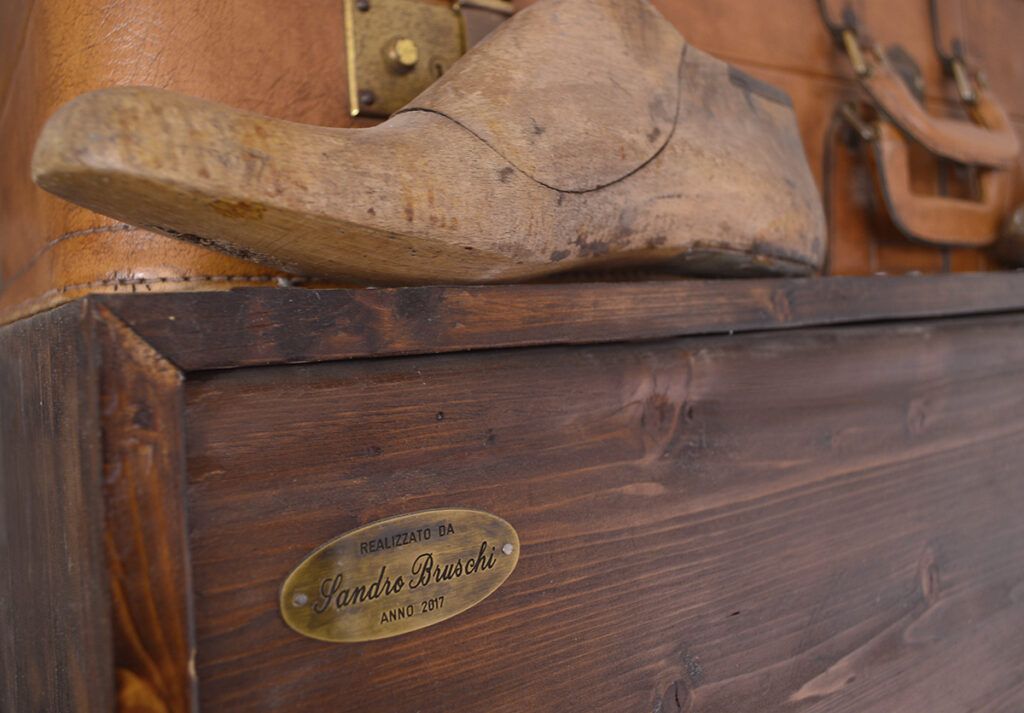 Why can you organize trunk shows around the world as such a young brand?
Today the trump card is to be recognizable by products which creates your own style, there is a lot of commitment and research and this allows for recognition and new contacts that come to us from the most common means, the web. From the first contact, we always try to create a reciprocal relationship. We want not only to satisfy the customer, but to "build loyalty" and this means that the passion in the work reaches the end customer.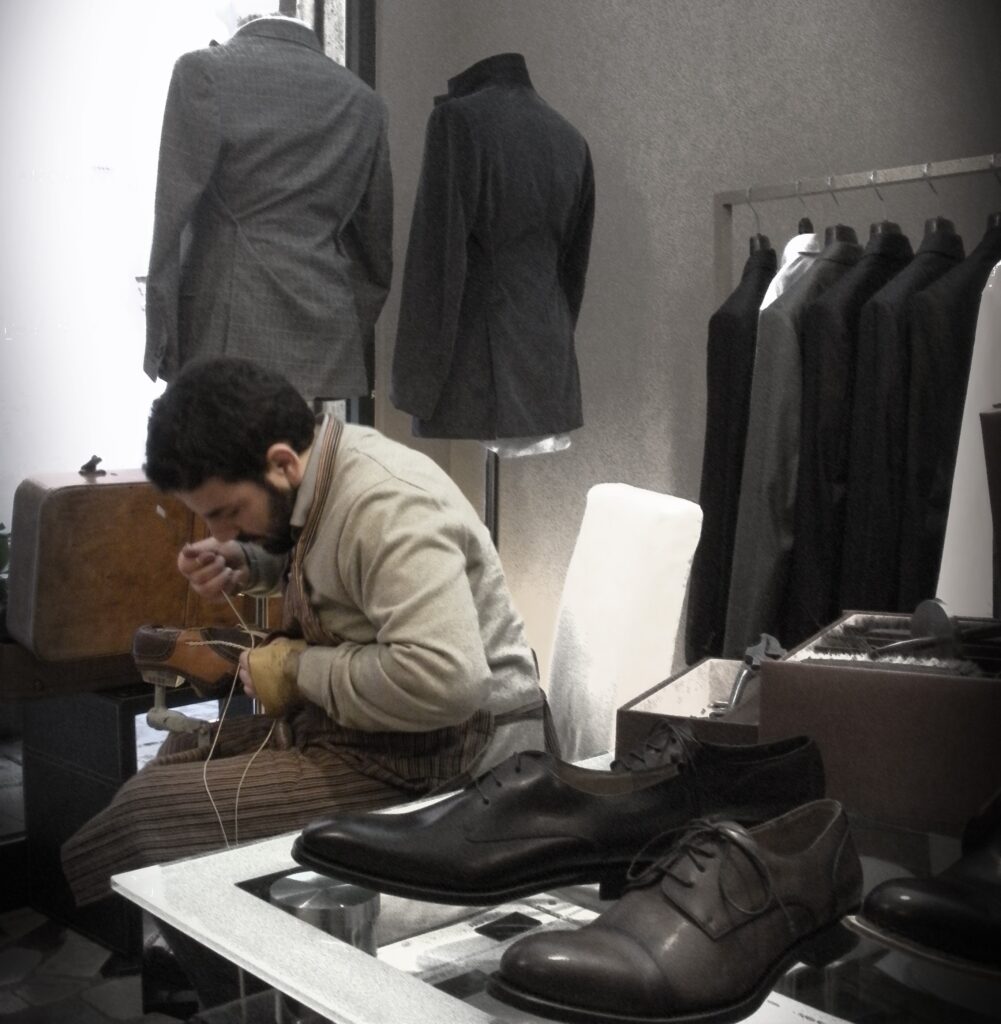 We first started collaborating with Italian tailors and then with some specialized stores, after which our attention turned to Europe and we started our first travels and we managed to organize events such as trunk shows which allowed us to carry our workshop around the world, up to Russia and Japan, where we have not only a working experience, but a great connection with all our customers.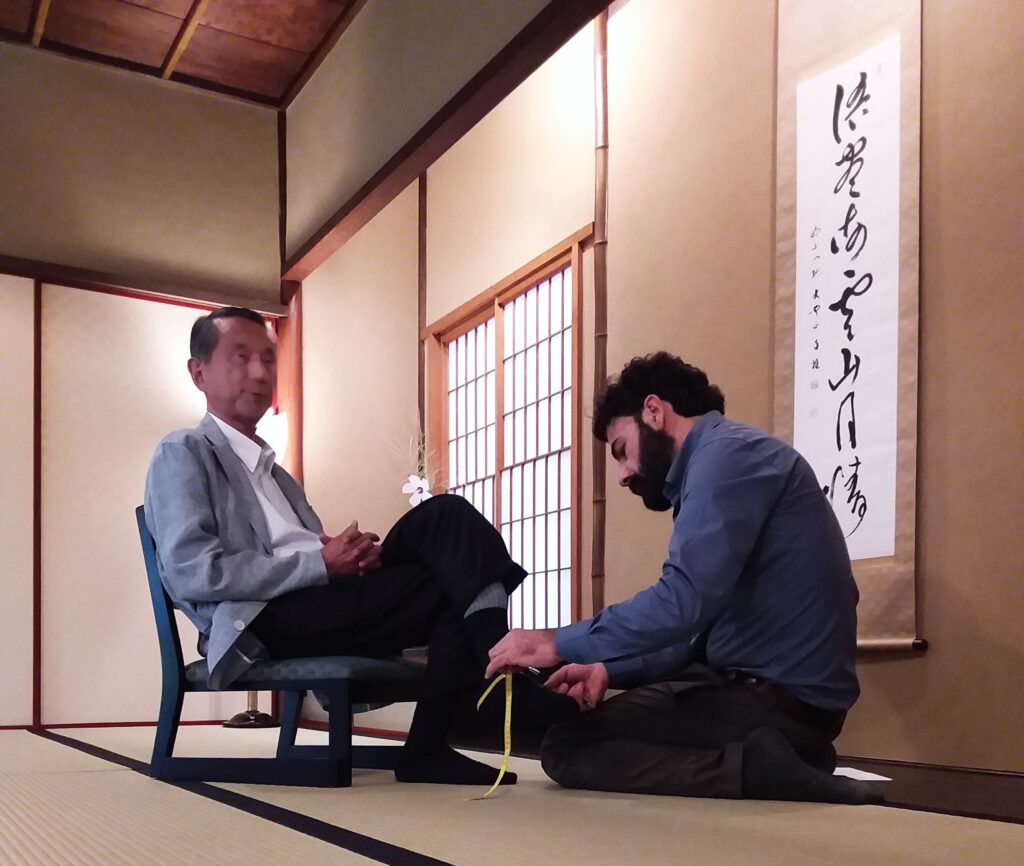 But rightly as you point out we are still very young on the market and we are only at the beginning, we already have a lot to experience and want to prove we are constantly changing.
Today we have new contacts and new markets to explore from Dubai to America. Serving different clients from all over the world allows us to broaden our horizons, having life experiences with different cultures.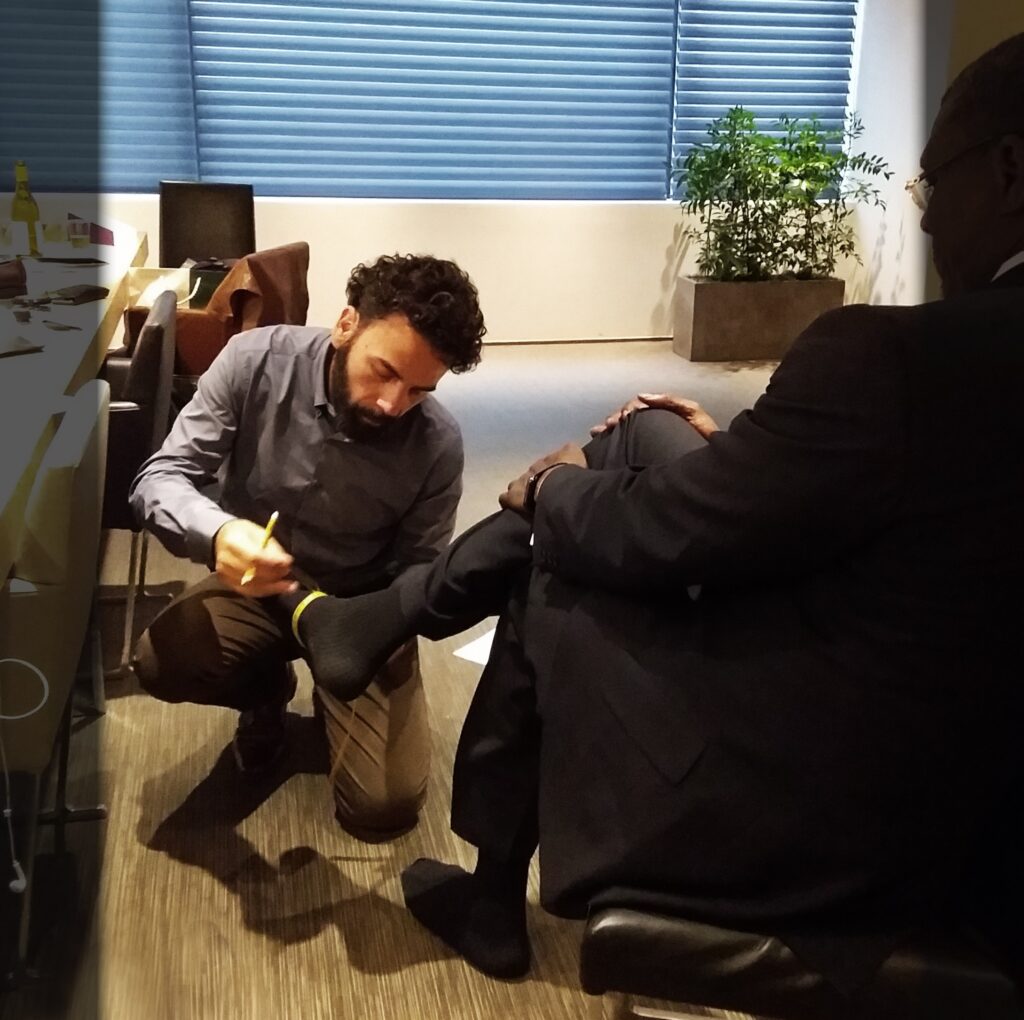 Do you have some very iconic models or lasts?
I certainly have some articles that are the longest-lived, such as the classic Brogue Oxford with a tapered last English style, it is the most ordered by our customers.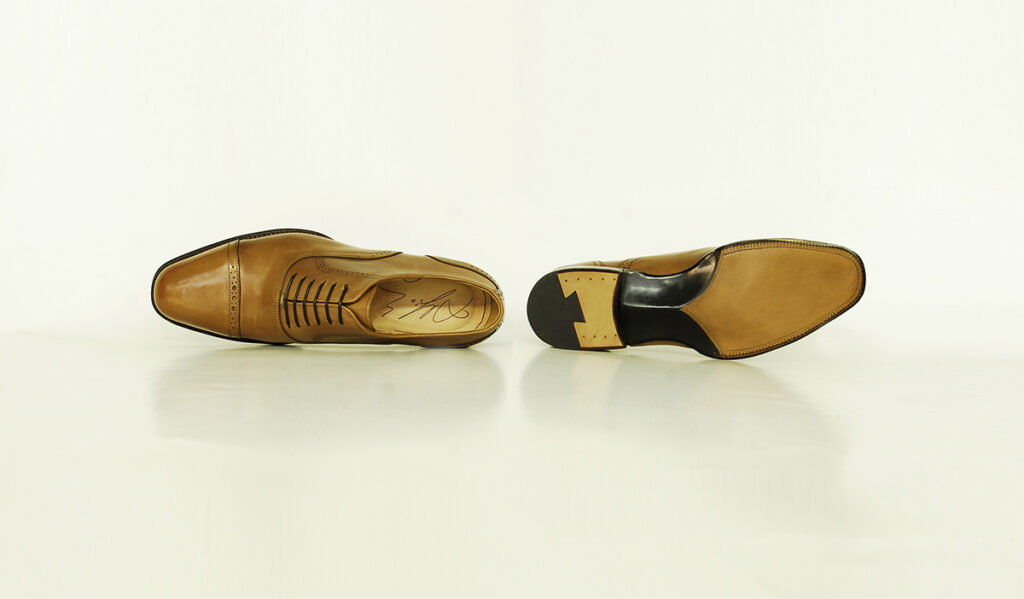 The one that excites myself is the Double Buckle model on our casual round toe last.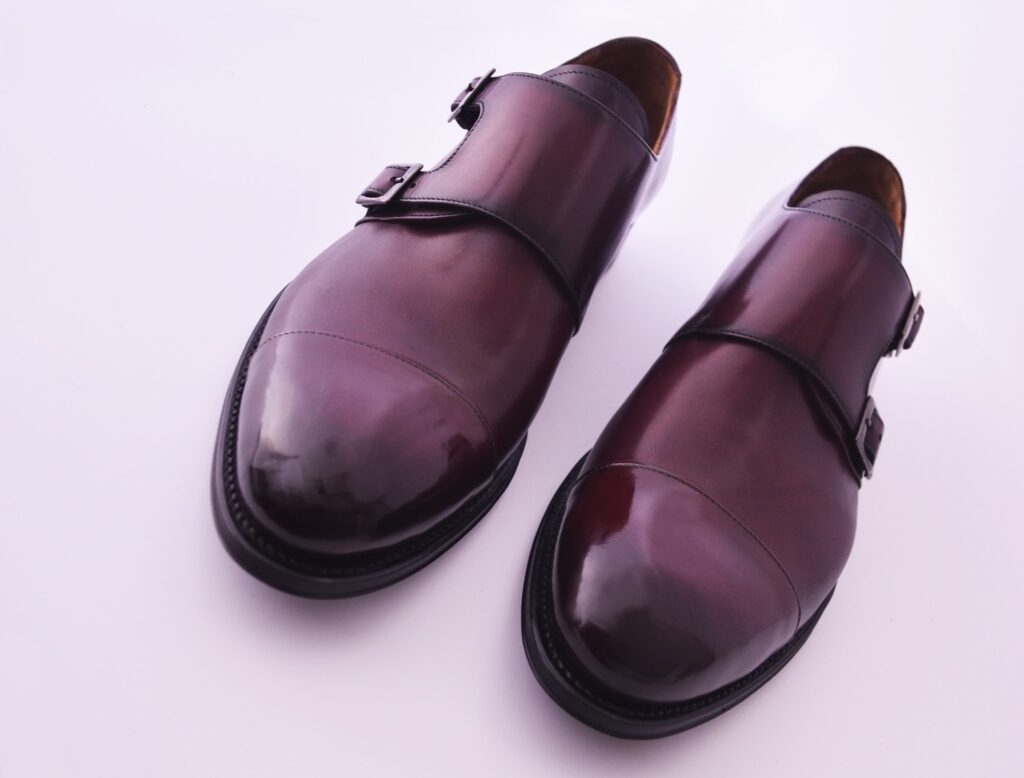 The model that I love and have made my customers love most of all is the oxford with "hidden" inside/turned over seams, where the last becomes the protagonist.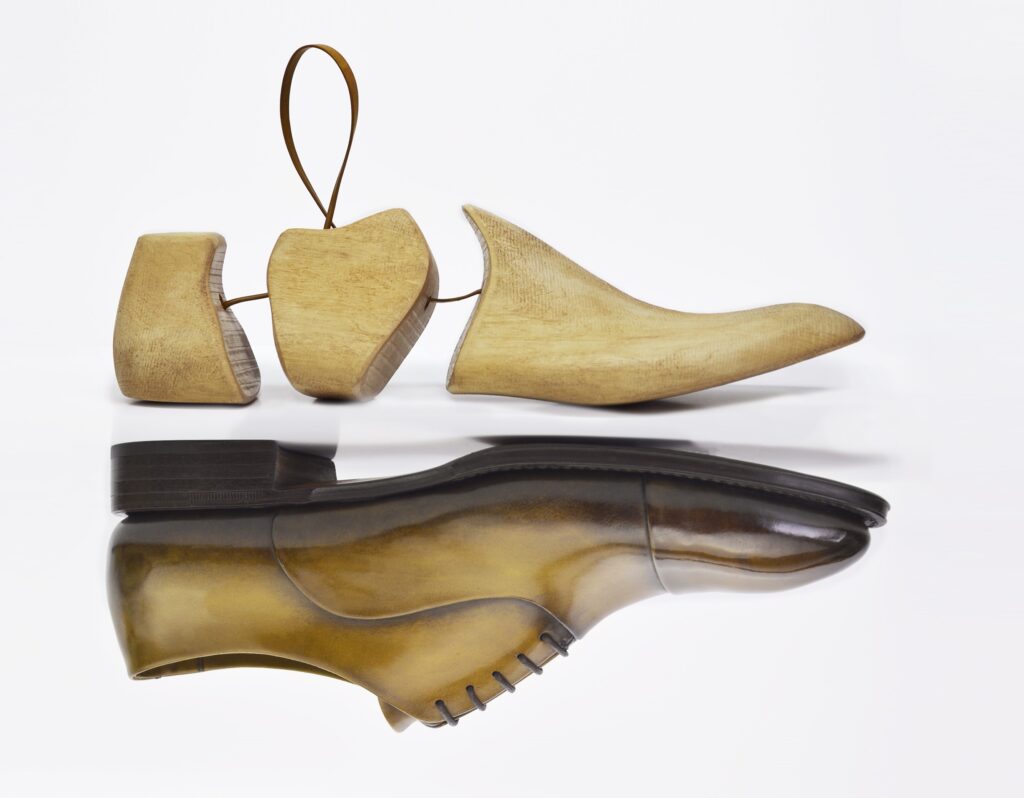 I do not deny, however, that my working history has allowed me in recent years to approach styles other than the classic. These styles lead me to develop new lines in which I recognize myself much more closely.
We are all in constant research and my professional maturation is something completely different from the past.
I present much more sinuous and decisive lines of last, with oxford models that I love to decline in all types of cuts and seams, but above all to adapt it to increasingly sophisticated lines, up to Seamless wholecut shoes, the model of elegance par excellence.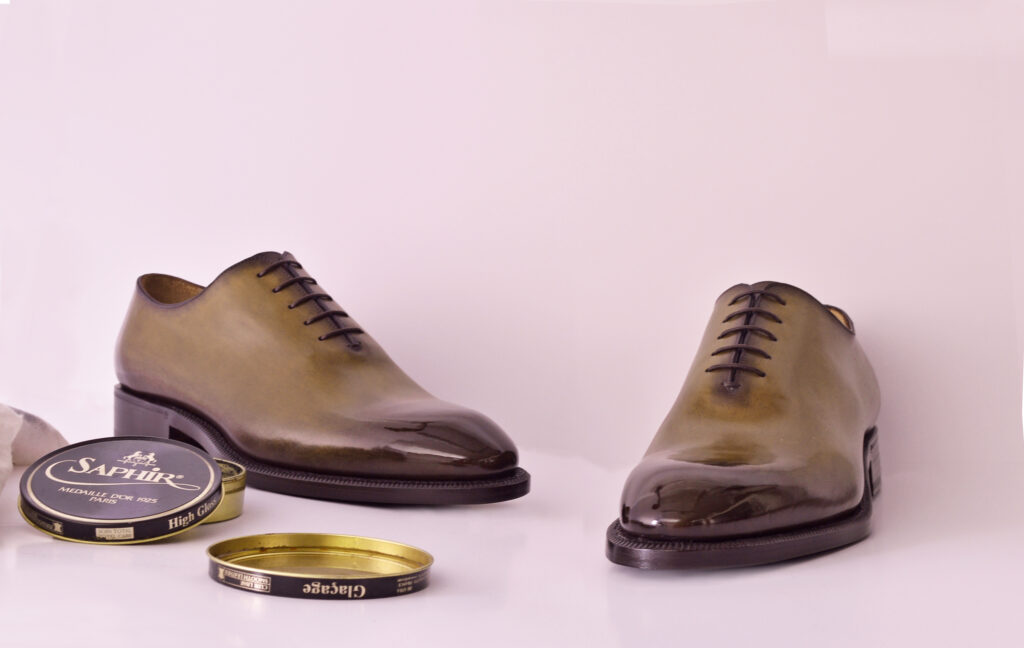 About colour and upper leather, do you have some preference?
I love to work the Horween Genuine Shell Cordovan in the iconic Bordeaux color number 8, it is unique and an excellence well recognized all over the world.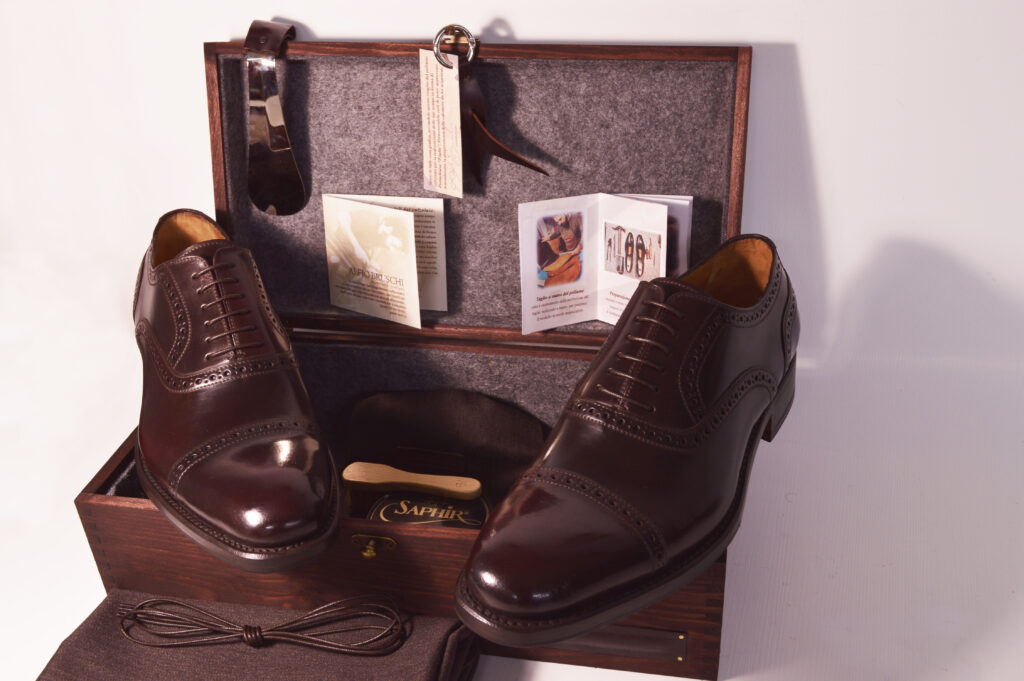 The leather in which I believe I can give the best for my style is the Full Grain Calf Leather in Crust quality which I can hand dye later.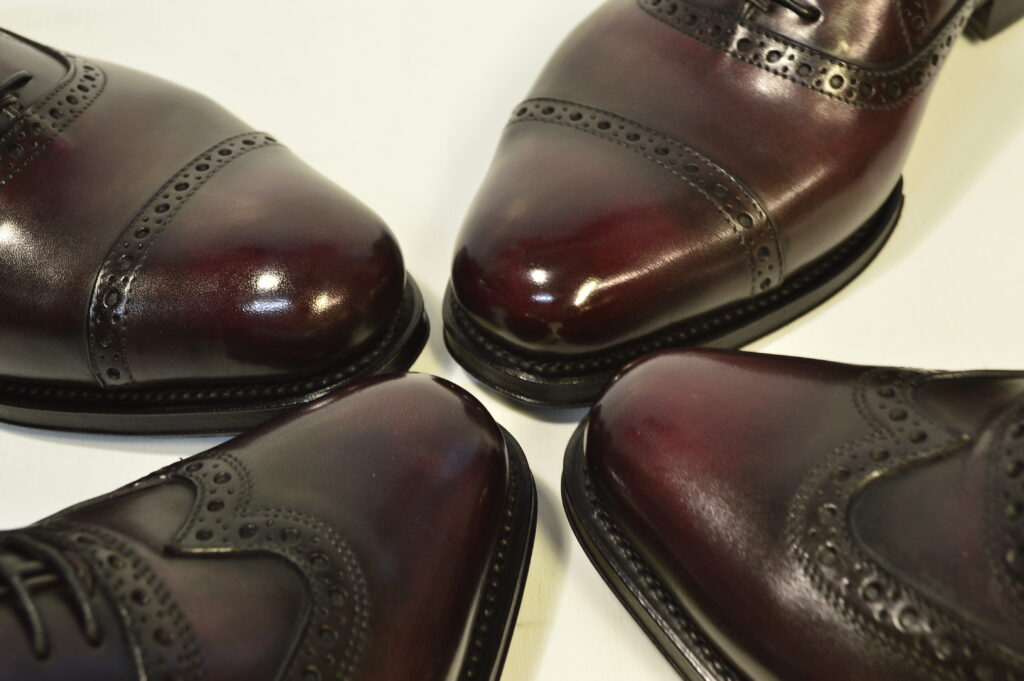 Colors ? Good question….if you had asked me a few years ago I would have told you the color among the classics is Red Wine.
For an daring color I would say a Forest tone that I have been creating in my shoes for several years and treatments and ointments can give nuances, that I can decline and become more brown or uniform to an intense green.
By aiming for dark shades on the seams and on the toe that I particularly love, especially for the final effect of the shoe when worn, that seems to remain in the background in the look, but inevitably catches the eye.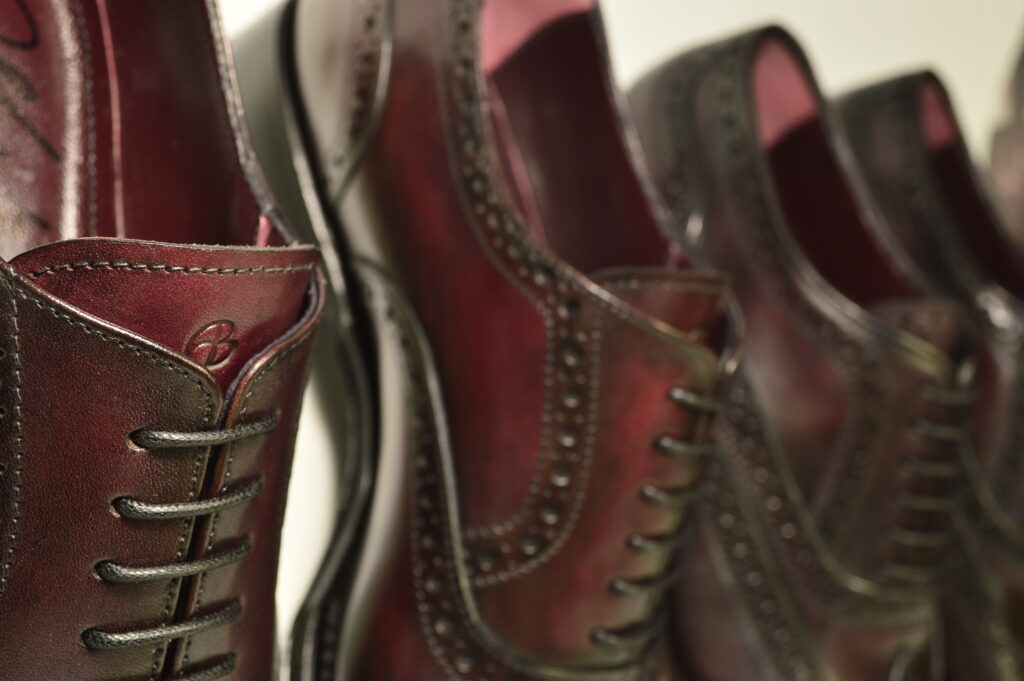 Today, however, my horizons have opened towards decisive and characterful tones well defined, hand dyed but on a uniform almost solid effect as much as possible because I accentuate the lines of my new last. I believe that the shoe in this way is not just an accessory but it becomes the protagonist of the total look.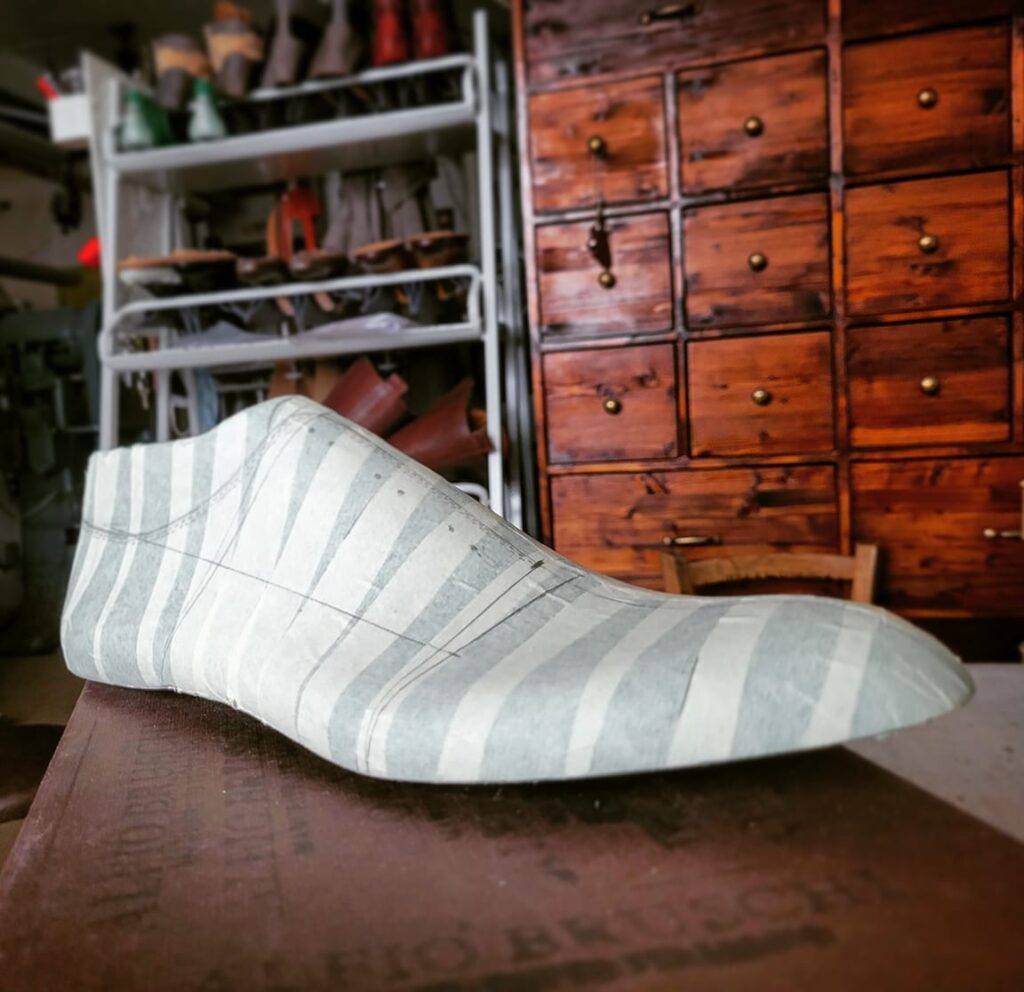 It is the best compliment for a shoemaker like me.
How many pairs of shoes do you make every year? Do you make the shoes all by yourself?
We produce everything ourselves internally in my workshop, whether we are talking about purely handmade shoes or those made with Blake Rapid construction.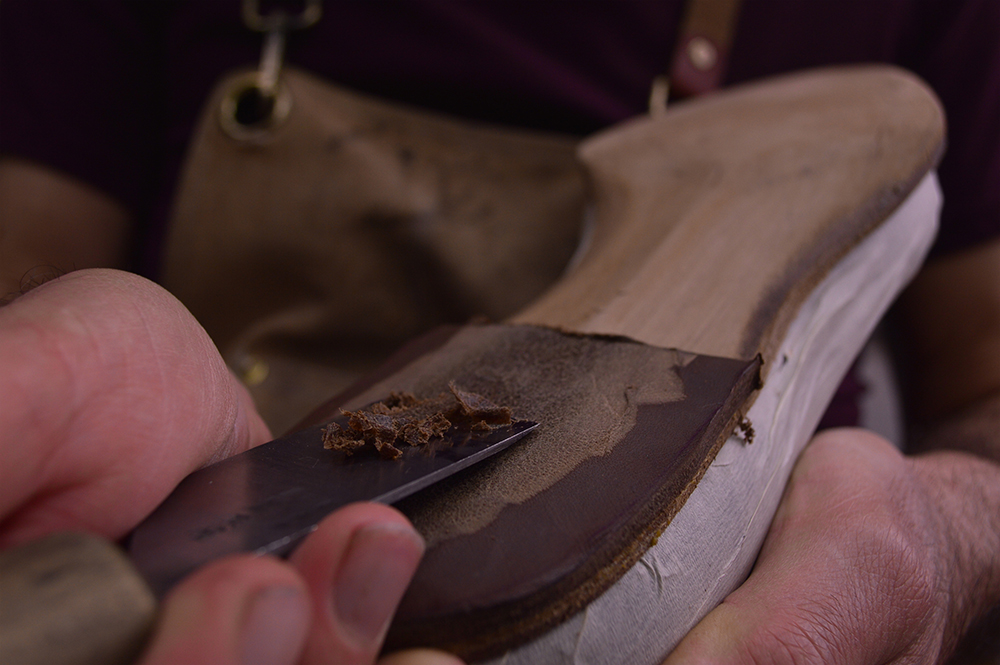 There are two sewing machines that I love and they are the ones that my father used. It is proud to let people know that my small workshop allows the customer to choose a handmade product and an artisan product, which comes from the roots of my territory and from the history of my country.
I can make 3 to 5 pairs handmade shoes per month, and 15 pairs by Blake Rapid construction.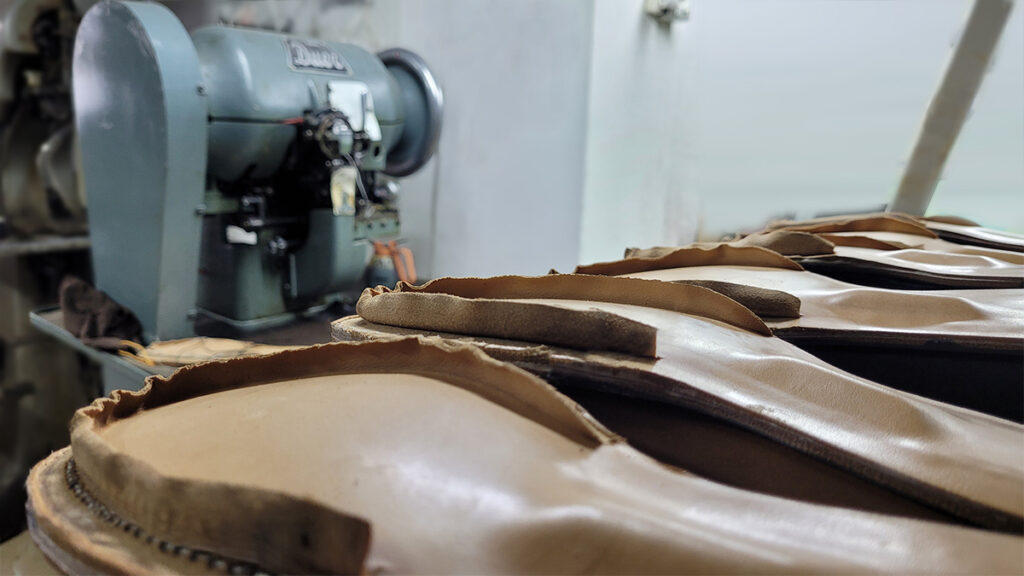 For delivery time, it all depends on the service, there are people who choose a custom one and those who require a complete Bespoke service, and we also have the special "One Piece" service where the customer can create his model starting from his idea.
My goal is to be able to make 50 pairs of handmade shoes every year.
All seasons are not the same and above all the world emergency and the covid have reversed the situation as for all sectors, but we are ready to restart at the maximum of our energies potential to reach our goals. The 2022 seems to promise an excellent end to the season.
What is your plan?
Continue to sharpen my craft with the same passion from the beginning shared with my partner Silvia. We can travel together and tell people our story and our land.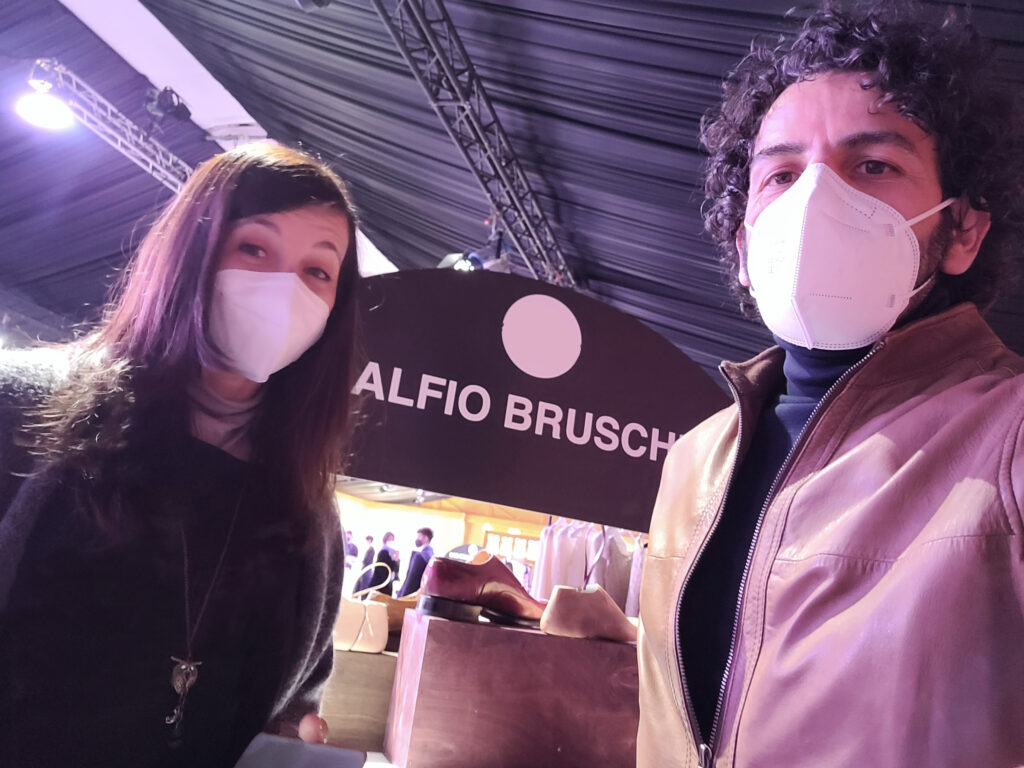 Today we don't just make a pair of shoes, we provide a complete Bespoke service and guaranteed for the quality of the materials, the phases of construction and respect for work, we always carry out different projects, let's try to give life to an idea. An always strong passion that we cultivate in our hearts and in everyday life, and above all we want to share with our customer like an ever-changing experience, not only for him, but also for us. This is the lifeblood that moves our passion of our workshop.